The Steel Wheels Perform Sept. 18 at Ozark Folk Center State Park
Expect tight harmonies, authentic soulful sounds, stellar instrumentals, and magnetic energy when The Steel Wheels take the stage at 7 p.m. on Friday, Sept. 18, at Ozark Folk Center State Park in Mountain View.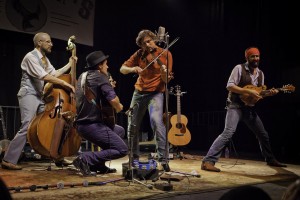 Based in the Blue Ridge Mountains of Virginia, this dynamic four-piece string band marries old-time musical traditions with innovation and originality. Band members are: lead singer/guitarist/banjo player Trent Wagler, standup bass player Brian Dickel, fiddler Eric Brubaker, and mandolin player Jay Lapp.
They are a natural fit for the Folk Center and its mission to provide living history, and to preserve and interpret the cultural and social history of the Ozark region (a five-state area), including traditional American folk music.
"I think it's interesting because there seems to be an attitude in the U.S. that says folk music is dead," Wagler said in a recent interview. "Like that was just the 60's and then Dylan went electric and why go back, or something. But I think roots music is really important today. I think a lot of people worry that branding music as folk seems antiquated and old, but that's just semantics. The reason people should be listening to roots music is because it's honest and when it's at its best it connects to a depth of sound and story that has no intent but that honesty. It's seldom about fame or financial gain."
Connecting to an audience is one of the elements The Steel Wheels do best. "Our live shows and albums are similar in the fact that we tend to have a theme or a least a flow that brings the listener into the context of the songs," Lapp added. "At a concert Trent will often tell stories that tie meaning to the songs or pose questions that a song might represent. We also love to bring big energy to the performance whether it's a fast fiddle tune, a quasi-gospel throw-down or a slow, burning waltz. In both cases we want people to feel something real and heartfelt."
While The Steel Wheels are a fine example of Americana music, they are not purists. "We admittedly take from whatever traditions and forms we've had the pleasure of being around. This includes Mennonite four-part harmony singing, old-time string band music, as well as punk rock and heavy metal (that's actually mostly Jay)," said Wagler. "I think it's the attitude and approach to the music that we have that doesn't quickly attempt to draw boundaries or limits. We're not worried about the purity of sounding like anything else before us; we want to sound authentic to the sounds we have heard and can achieve with the instruments and inspiration we hold."
Wagler added that the importance of a place like the Ozark Folk Center is highlighting the unique regional culture of various corners of the United States. "We love the mountain music and traditions that inform the music of The Steel Wheels, though in this case we primarily talk about the Appalachian Mountains. Hopefully as we bring a taste of Virginia with us when we come, it will encourage more and more people to look around at the beautiful heritage and traditions within the Ozarks," he said.
The Steel Wheels take the stage at 7 p.m. Ozark Folk Center regular performers Grace Stormont and Kai Perry will be the opening act. If you don't have a season pass to the Folk Center, the cost for the Feature Concert is $12 for adults, $7 for children ages 6-12, and free for children 5 and younger. Season Passes are good for both craft village and evening performance. Combo tickets for both craft village admission and evening concerts are $19.50. For more information on this and other events visit www.OzarkFolkCenter.com or call 870-269-3851.
The Ozark Folk Center State Park is located at 1032 Park Ave. in Mountain View. Follow the signs to the Ozark Folk Center State Park, less than a mile from the Courthouse Square in downtown Mountain View. The park may also be reached by taking Ark. 5/9/14 (Sylamore Avenue) to Jimmy Driftwood Parkway, which leads directly to the park entrance.