Stomping Good Time in Altus All Day Saturday
Due to the weather, tonight's activities for the 30th annual Altus Grape Fest are being postponed to tomorrow. So no worries, you'll get in all the grape stompin' fun you can handle tomorrow, July 27, from 7:30 a.m. to 11 p.m. in Altus City Park.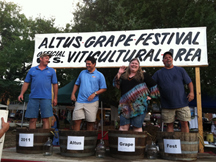 There will be contests and prizes, wines and juices. Don't miss live music and the street dance! The fun begins Saturday at 7:30 a.m. with a biscuit and sausage gravy breakfast. The public grape stomp takes place at 9:30 a.m. with a public competition at 10:30 a.m., 12:30 p.m., 2:30 and 3:30 p.m. The grape pie-eating contest is at 11 a.m. Stick around for the waiter/waitress tray races at 1 p.m. and the amateur wine making contest results at 3 p.m.
Held over from Friday, the celebrity grape stomp will be at 6:15 p.m., the Bacchus and Lady Bacchus Look-Alike Contest at 7 p.m. and the street dance at 8:30 p.m. Click here for a full schedule of events.
For more information, call 479-518-1963.