The Stone County Quilt Trail
I can't think of a more appropriate place for a quilt trail than Stone County in Arkansas.
The county seat is Mountain View, which bills itself as the "Folk Music Capital of the World." It's home to Ozark Folk Center State Park, America's only park dedicated to Ozark folkways. Pioneer arts and crafts are practiced here daily during live demonstrations at the park's craft village. Traditional mountain music fills the auditorium and the Heritage Herb Garden grows old-time pass-along plants and herbs.
So the Stone County Quilt Trail is yet another step toward preserving a piece of this area's rich culture. The trail contains 12 quilt block representations painted on barns and houses throughout the county. Just as whole, cloth quilts tell a story of the bits and pieces of people's lives stitched into it, so do these quilt blocks tell a story about the people and places that make Stone County special.
The website, http://arkansasquilttrails.com/, details the locations of these quilt blocks. You can pinpoint the address and read about the significance of each block. Then, make plans to take a leisurely drive through this beautiful countryside to follow the quilt trail.
One of my favorite stories on the trail is of the Bear Tracks block, the first of four blocks painted by owners Don and Carol Adams. On the website Carol describes why quilts are important to her: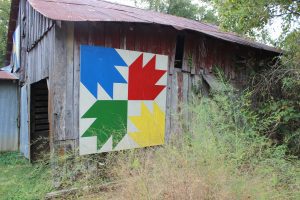 "Quilts, for my family, have always been very special. They were essential to warmth in the winter and they brought us, our family and friends, together as in a social community. On Sunday afternoons, after a large country meal, at my Grandmother's, we would unroll the quilt and frame from the bedroom ceiling. Our storage place, that for daily routines was out of the way, yet handy to unroll as the group gathered. Our group included three or four generations. There was always much discussion of family news and family histories to learn of. I remember, as a child, sitting beneath the quilt, threading needles for the quilters. I felt like I was in a cozy cave with all my special family surrounding me. The chatter of the conversations above me was very comforting.
"Our quilts were always very traditional in pattern and fabrics used. We loved a quilt that had pieces of fabrics used in making our dresses. Looking for these special fabrics was truly a treasure hunt for us. Many memories came back from each fabric as it was discovered. One might say that our quilts were very utilitarian, and they were, but when snuggled under one or two of them on a very cold snowy night, they were beautiful, warm and cozy. All we could think of was the fuzzy warm memories of the love that was stitched into them. I still quilt today, but with my modern sewing machine. Some are art quilts that are very colorful and beautiful with many, many, many fancy stitches. I love to see them mounted on walls to decorate our homes or on display at county and state fairs. When I think about it, none of them will ever be loved as much as one we can actually sleep under that was handmade with the many stitches of a needle threaded by the younger members and handed off to the generations of stitchers around the quilt…"
The quilt trail is sponsored by the Rural Community Alliance and is being expanded to any county interested in taking part. Those interested in participating can email Renee Carr at [email protected].