Summits, enduros and mountain bike demos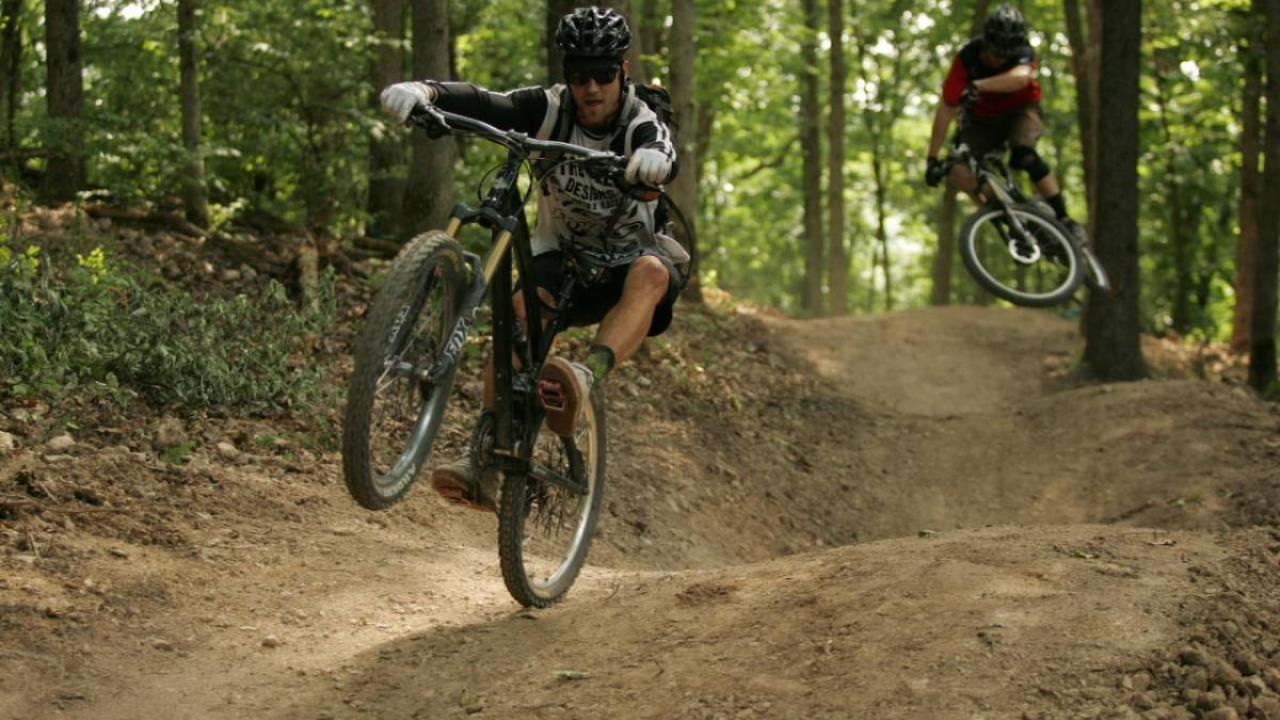 Northwest Arkansas is the new mid-America playground for mountain bikers. The hardwood forests and terrain of the Ozark Mountains hold trails of all types – technical hand-cut singletrack to downhill professionally-built flow trails. New trails are constantly in the works.
The riding here suits every type of rider, from beginners looking for an easy loop to intermediate and advanced riders seeking a difficult trail for training.
A claim to fame of the region is Slaughter Pen near Bentonville, a technical 20-mile ride along rocky hillsides that many consider among the best mountain bike trails in the area. Another crown jewel is the 40-mile Upper Buffalo, one of the newer Epic-rated rides as designated by the International Mountain Bicycling Association (IMBA).
With the Bentonville (silver-level) and Fayetteville (bronze-level) Ride Centers located less than 30 miles apart, the two towns have formed the first and only region-wide Ride Center designation. The number of events continues to grow each year.
Mountain bikers visiting the Ozarks have a wide range of riding to choose from and two cycling-crazed communities hosting some of the nation's finest trails and events.
Here are a few musts for your biking calendar:
Annual Battle for Townsend's Ridge AMBCS XC Race – June 11
International Mountain Bicycling Association Trail Labs – June 20-22
During intensive workshops, IMBA staff, local experts and stakeholders lead participants through the recipe for a model community trail system: planning, design, building, activation, promotion and measuring success.
Attendees will also get a firsthand look at components of an intentional and diverse mountain bike trails community. This inaugural IMBA Trail Lab will be the first of three in Bentonville during 2018.
Arkansas Bike Summit - June 21
Join state leaders at this inaugural event at The Record in Bentonville where speakers will discuss cycling infrastructure, development, events and more.
It's the IMBA Dirty 30 - June 22
The International Mountain Bicycling Association celebrates its 30th birthday in Northwest Arkansas with trail rides and social gatherings.
Fat Tire Festival - July 13
This Eureka Springs event is three-days of racing downhill, super-d, short track, and cross country as well as group rides and social events.
The Bella Vista Enduro - July 22
Part of the 2018 Arkansas Enduro Series, this endure takes place at Blowing Springs with stages sprinkled throughout Bella Vista's Back 40 Trail System.
Rogers Cycling Festival - July 27
This festival offers road cycling and mountain biking ranging from highly skilled and competitive races to family-friendly rides.
The Back 40 Fall for All - Sept. 22
For cyclists there are bike skills clinics, group mountain bike rides, kids' bike rodeo and bike safety checks.
The Bentonville Enduro - Sept. 22
Part of the 2018 Arkansas Enduro Series, this fifth and final race wraps up at the coveted Coler MTB Preserve located a mile west of the Bentonville Square.
The Oz Trails Off Road - Oct. 5
Riders choose from three different distance options of 20, 35, or 50-ish miles on trails in Bella Vista and Bentonville.
Outerbike 2018 - Oct. 26
In Bentonville, registration fees include access to all the biking, lunches, beer, prizes, and evening parties.
The Back 40 Trail Run & Ride in Bella Vista - Dec. 8
It's great singletrack riding for mountain bikers with different distances to choose from.