Super Circus Heroes Coming to Verizon Arena Aug. 14
Ringling Bros. and Barnum & Bailey® is bringing its new gold edition, complete with Super Circus Heroes, to North Little Rock on August 14.  The highly interactive, action filled evening introduces real life super heroes from around the world.  They don't fight crime; they battle boredom.
Award-winning clown Davis Vassallo from Italy makes his American debut as "Mr. Boredom." The elite group of Super Circus Heroes and their amazing abilities inspire him to realize his comedic talent was there all along.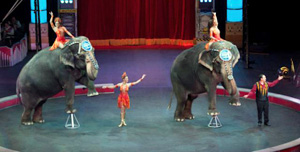 A Superhero Training Camp at the All-Access Pre-Show Super Hero Party takes place on the arena floor one hour before the 7 p.m. show. Audiences will recognize their inner superhuman powers while being coached by the professionals at The Greatest Show on Earth® to balance, juggle and more.  Participants will be able to try on dazzling costumes, plus take photos and get autographs with the Super Circus Heroes cast.  They'll also get an exclusive backstage visit for a first-hand look at an exotic animal menagerie, from camels to elephants.
Other high-flying performers include the Shaolin Warriors from China, the Twin Titans from Bulgaria, the Silver Satellites, the Lopez Family, the Fire Riders, the Lightning Rods, and the Cuban Comets.  Live music of over 50 numbers by the six-piece Ringling Bros. and Barnum and Bailey band will be at each performance.
Tickets are on sale at the Verizon box office and Ticketmaster outlets. They can be charged by phone by calling 800-745-3000 or ordered online at www.ticketmaster.com.