Super Heroes and Their Fans Descend on Little Rock August 29
Editor's Note: This event took place in 2015.
Comic books and comic book characters are hot! All you have to do it check the television or movie listings to see that. It doesn't mean the classic printed versions are passé. In fact they are probably just as popular as their video cousins.
If you're a fan or want to start collecting, mark Saturday, August 29 on your calendar because that's the date of the River City Comic Expo. It is being held at the Statehouse Convention Center in downtown Little Rock. Visitors are expected from around the region and as far away as New Jersey, Wisconsin and South Florida.
A jam-packed list of special guests includes actress Mikki Val (photo left), who has appeared in Poetic Justice, Star Trek: The Next Generation, Scream Queens, and more; Jaqueline Fleming (photo right), an actress who has been seen in Abraham Lincoln Vampire Hunter, Bad Ass 3, and NCIS New Orleans. Mitch Breitweiser, an illustrator known for his work on Marvel's Captain America franchise, and Sid Vicious, the wrestling star.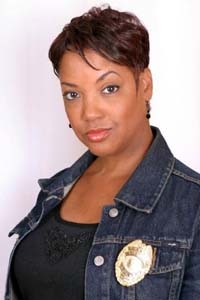 Also on the program are Michael Golden, co-creator of the X-Men's Rogue character, Spartan X and Bucky O'Hare; and Dr. Travis Langley, author of the book Batman and Psychology: A Dark and Stormy Knight, who has appeared in documentaries on comics and super heroes. Numerous other authors, illustrators, and artists are also on the schedule. Visit rivercitycomicexpo.com/ for an up-to-date list of who will be appearing.
In addition,  a 1967 Chevy Impala that was used on the Supernatural television series and actually driven by actor Jensen Ackles on the show, and a 2014 Green Lantern Dodge Avenger SXT owned by David Clark of Benton, will be on display.
A costume contest is scheduled from 4 p.m. to 5 p.m. in the Caraway Rooms. Those wishing to participate must register before 3 p.m. Competition is in three categories: adult, youth and group. Doors open at 10 a.m., closing at 6 p.m. The first ever Elite Invitational Qualifier for Central Arkansas is taking place at the convention. Participants have the chance to win a piece of the $2,000 prize pool, one of four invitations to the Star City Games $50,000 Invitational, and two byes for the Grand Prix Oklahoma. Also a part of the event is the Warhammer 40K Beatdown Summer Event.