Surf the Bay: Father's Day Weekend Family Fun at Fairfield Bay
Experience extreme sports and family fun Father's Day weekend in Fairfield Bay during the Surf the Bay watersport festival.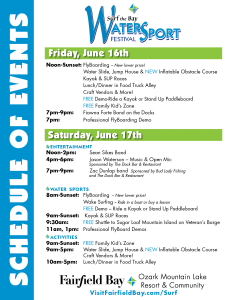 On June 16 and 17 at Fairfield Bay Marina on the north shore of Greer's Ferry Lake, you can watch professionals showcase their sport, or sign up and participate. The wet fun runs a range of wild to mild: wakesurfing, flyboarding, kayaking, paddle boarding, water slides, and more. Also, new this year is an inflatable obstacle course. If the waves get too extreme, take a free shuttle out to Sugar Loaf Mountain and hike your way up to breathtaking panoramic views.
Red River Boating Center will be on hand to show off a few of the fastest, most exciting watercraft on the lake. These boats will be set up to let participants experience the thrill of wakesurfing and wakeboarding, as well as skiing and kids' tubing.
iFlyH2O will demonstrate and instruct adventurous folks on the extreme water activity of flyboarding, where you strap on a water-powered jetpack and "fly" above the water. If you're looking for something tame, Frank Wimberly, of Sulphur Creek Outfitters will offer stand up paddle board lessons. SUPs are a great way to enjoy the water and a get a fun workout at the same time. Friendly competitions such as kayaking racing will also take place throughout the day.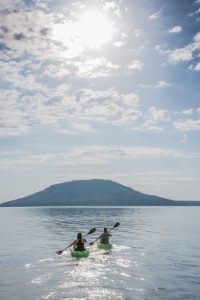 New this year at Surf the Bay is the only Craigcat on Greers Ferry Lake. It's compact, easy to maneuver and fast. Rentals are available, along with pontoons, kayaks, jet skis, Hobie Eclipse, and more.
Surf the Bay kicks off with a big beach party Friday night, June 16, featuring live music from Fiawna Forte plus water games, dinner, refreshments and more.  Activities start early Saturday morning, June 17. Enjoy food vendors, hiking at nearby Sugar Loaf Mountain, and plenty of outdoor activities on land as well as fun in the water. Music can be heard dockside all day, beginning at noon with the Sean Sikes Band playing until 2, followed by Jason Waterson Music and Open Mic from 4 p.m. to 6 p.m. The Zac Dunlap Band plays from 7 p.m. to 9 p.m.
Stay and Play in The Bay
Nestled amongst the Ozark Mountains and situated on the banks of the 40,000 acre Greers Ferry Lake, the resort community of Fairfield Bay is one of the region's best family recreation destinations. Located 75 miles north of Little Rock, the community showcases stunning mountain scenery and outdoor activities.
For more information on Surf the Bay and Fairfield Bay, go to www.VisitFairfieldBay.com/Surf, or call 501-884-4202.