Take a Guided Trail Ride at Flying Q Farms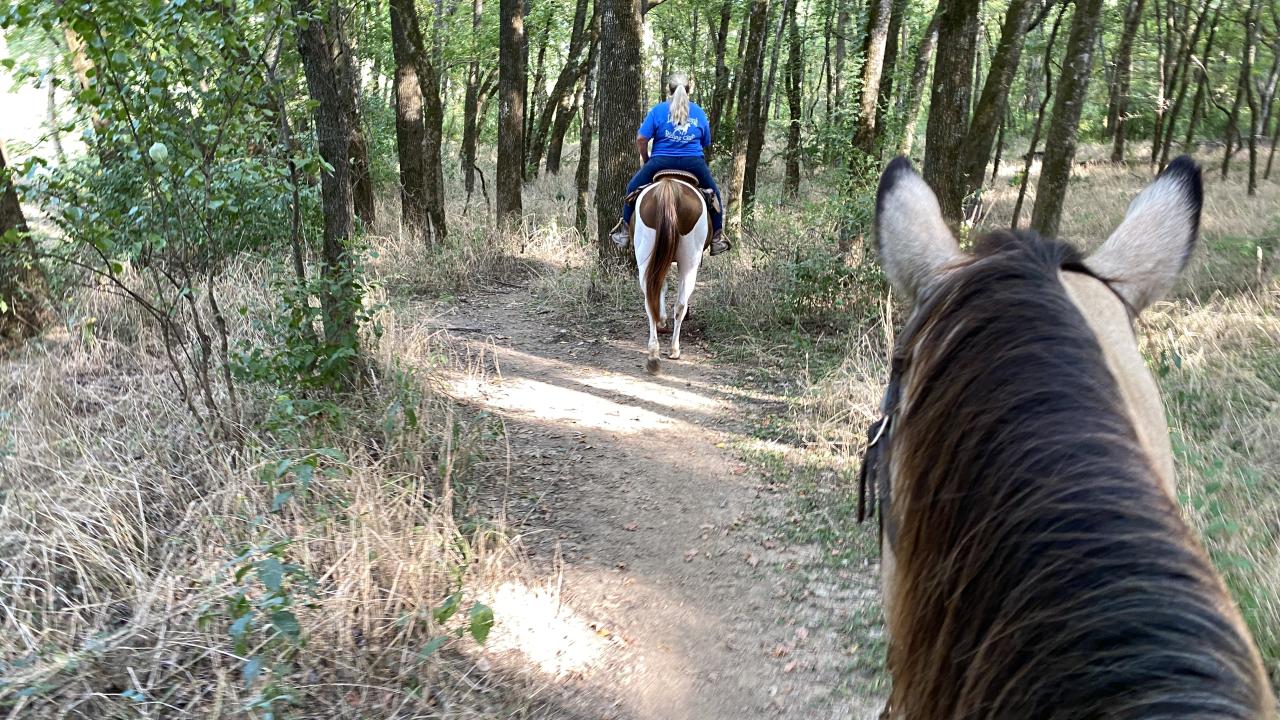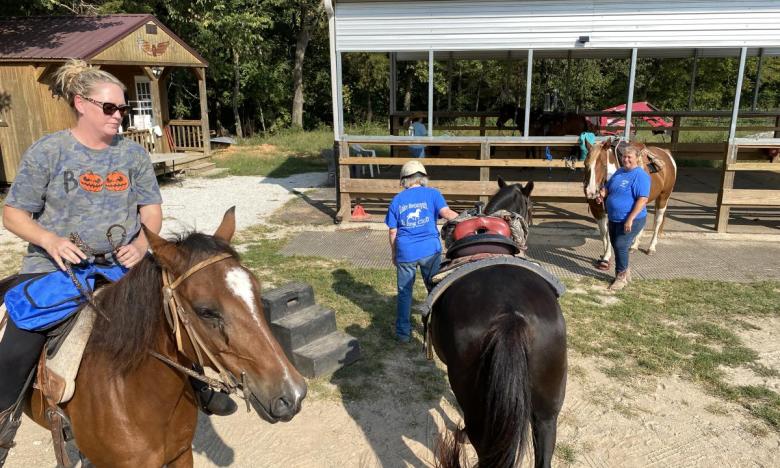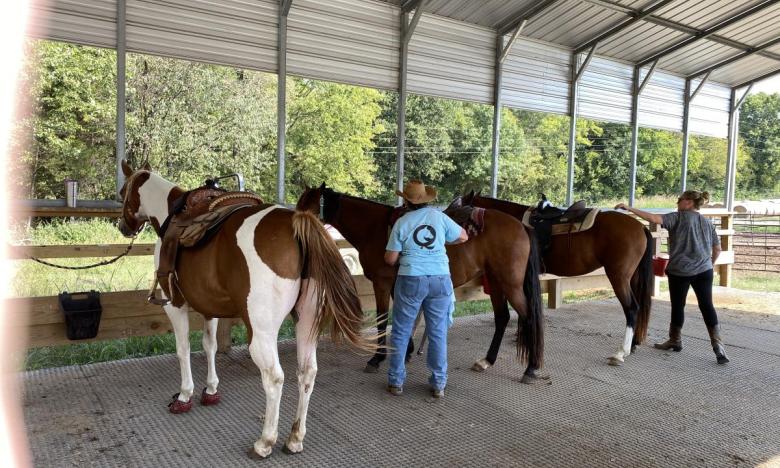 Three steps about 2 feet wide sit alone on the barren ground between the tack shed and the pole barn where Susan Sullivan and her gang saddle the horses. Sullivan points to a tan horse with a dark brown mane and tells me that one will be mine. I go to pet him, feeling like we should get acquainted, and see his name printed on a shiny round tag on his halter.
Lance will be my steed for the guided trail ride I'm taking at Flying Q Farms, located just 5 miles from downtown Fayetteville.
One of the crew positions Lance beside the steps. I climb to the top, place my left foot in the stirrup and swing my right leg up and over the saddle. Unsure of what to do for a moment, I hesitate and then softly squeeze Lance's sides between my feet to get him to move forward so the others can mount up from the steps too. There are five of us heading out on the trail today.
This isn't the "nose-to-tail" experience where the horses are so old or tame that they will do absolutely nothing other than follow each other closely. We tell people to "steer your horse," Susan says with a light-hearted laugh.
We strike out for an opening in the woods just across the road from the farm on the 1,400 acres of land that comprise Lake Sequoyah Park. The worn track between the bushes feels like a portal to the Garden of Eden. Lush vegetation surrounds us as the horses trod down the path. Within minutes, the sounds of the city fade. Just birds and bugs permeate my ear drums.
I continually adjust myself in the stirrups and saddle as I get used to the motion of Lance stepping on dirt and rocks or over tree limbs and gnarly roots. The distinct perfume of earth kicks up from the horses' hooves. The rich scent of the animals, sweet and savory, fills my nose.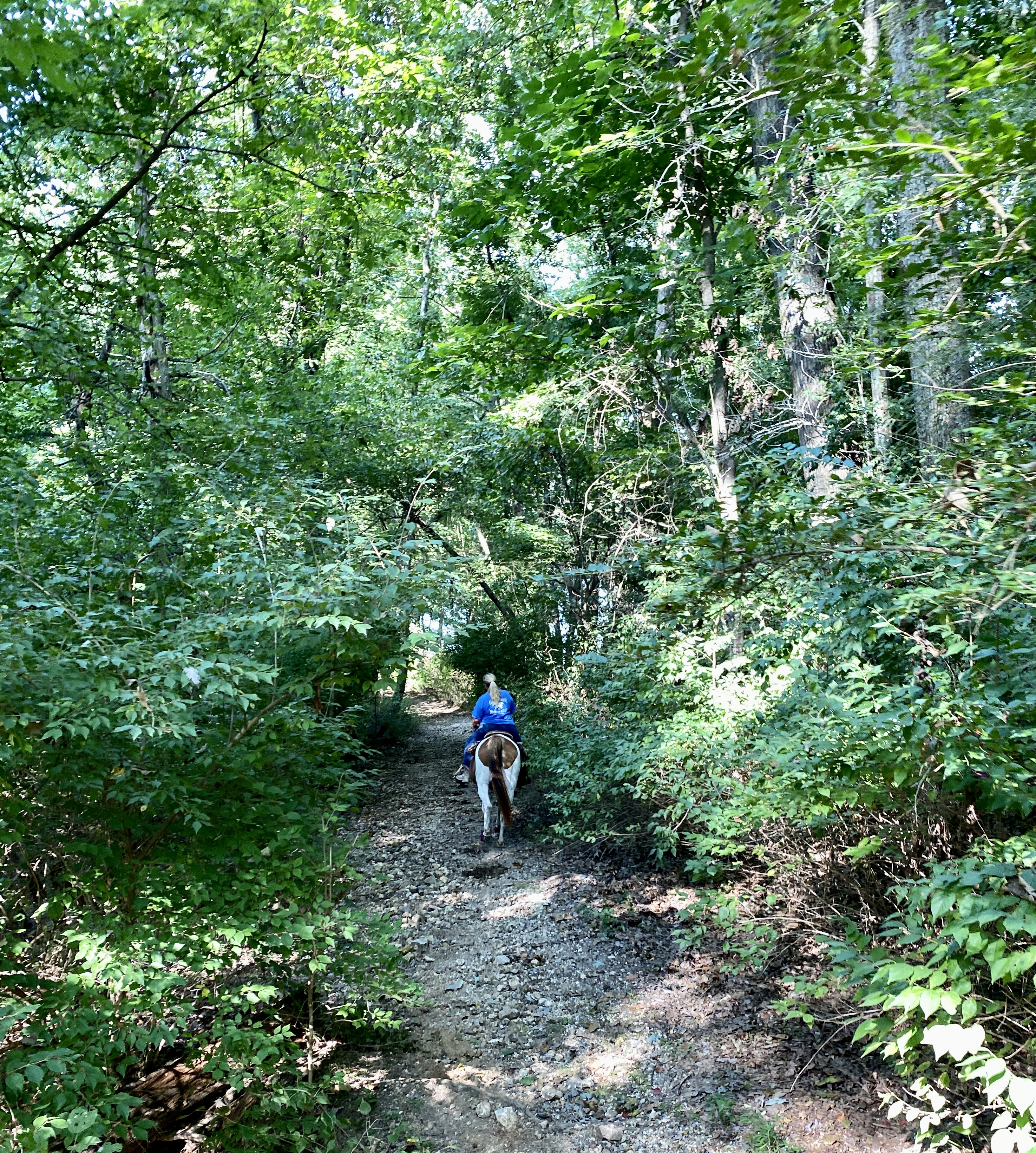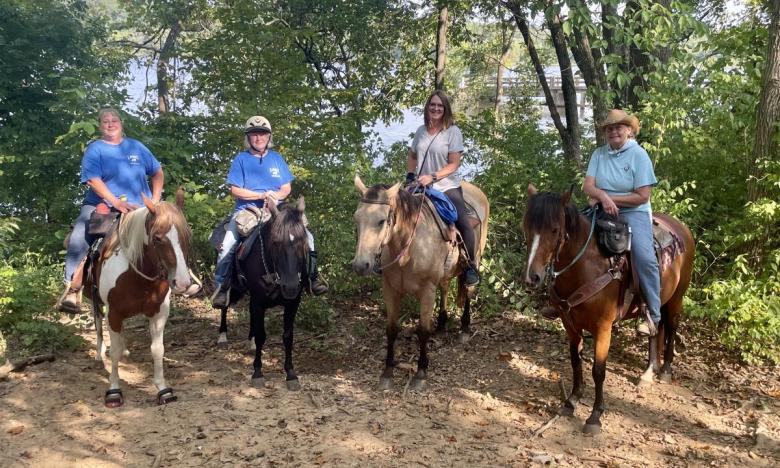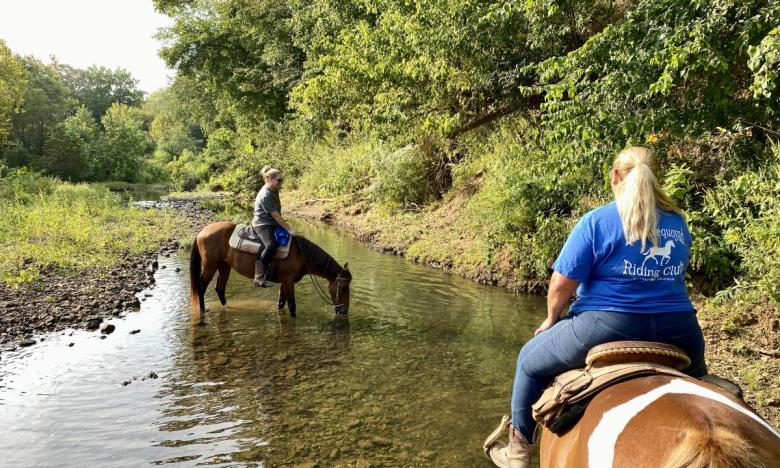 We stop to take a picture with Lake Sequoyah in the background, which requires me to line up side by side with the others. They coach me through it as I try to turn Lance. "Pull straight back on the reins with your left hand. Kick him in the side with your left foot." I almost get in position before accidentally turning him the wrong way. "Sorry, that was my fault," I tell him. Despite the operator errors, we finally get in place.
Along the trail, we occasionally pause to drink water stored in our saddle bags, chat and take in the scenery. Sullivan also calls us to a halt once to check one of the horse's hooves. The trails crisscross everywhere and I'm glad to be following the leader. Plus, the lead rider gets most of the cobwebs before me.
The trail is single file in some places and wide enough for two horses to walk side by side in others. Sometimes Lance walks at the trail's edge and the leaves and branches brush against us. I think he's testing me. He knew I was a rookie rider the moment I sat in the saddle. I learn to guide him toward the middle of the path.
When we get to an area with water, the horses drink. My companions tell me to kick Lance in the sides, which I do tentatively with fear that it will make him bolt. Apparently, he's a one-trick pony with a love of water. On cue, he paws at the pool, splashing me. We all laugh and I do it over and over before we head out toward a waterfall.
It's truly a lot more fun to have a horse that actually requires you to participate, which is one reason Flying Q Farms is such a great place to ride.
We meander through the forest for about an hour traveling roughly 2.5 miles. It's long enough to feel slightly saddle sore if you're not used to riding.
Back at the farm, I make an extremely awkward dismount onto the steps. There's a relief in getting out of the saddle even though that means the adventure is over.
Lance poses for a picture with me and graciously accepts my kisses.
It's a beautiful sunny summer day, and I'm already thinking of when I can come back. I'd love to ride through the fiery colors of autumn leaves, see a clear view of the lake in winter when the trees are bare, and enjoy the fresh green growth of spring from horseback. Eventually, maybe Lance won't think of me as a rookie.
Flying Q Farms
Owned by Sullivan, Flying Q Farms is located at 201 S. Lake Sequoyah Spur on the eastern edge of Fayetteville. Guided rides cost $75 per person. Typical ride times are Tuesday through Friday at 4 p.m., although groups of two or fewer may be able to get an earlier ride time during the week. Saturday and Sunday rides are at 1 p.m. and 2:30 p.m.
Sullivan always has a lead and follow-up horse on guided rides whether it's one person or six, which is the maximum she will take so that everyone can truly enjoy the experience. She says her customers are locals as well as people from all over the world, including Europe, Puerto Rico and Africa. Many international visitors are vendors that have come to Northwest Arkansas to do business with Walmart.
All manner of riding experience is welcome. She has gentle horses for first-timers and horses for experienced riders. "I take care of 31 horses and nine of those are mine," Sullivan says. She is a horse trainer and gives riding lessons.
To book a guided ride, contact Sullivan at 479-283-6788 or [email protected]. For more information, visit Flyingqfarms.com/guided-trail-rides.
Where to Ride
In addition to Flying Q, there are numerous places around the state to enjoy the unique experience of immersing yourself in nature via horseback. Find one near you and enjoy the ride.
Keels Creek Trail Rides, Eureka Springs, Horsebackrideseurekaspringsar.com: Ride through open meadows and forests while meandering along Keels Creek.   
Sunshine Acres Ranch, Romance, Sunshineacresranch.com: Guided trail rides on 18 trails offering gorgeous views including wooded creek crossings, mountains and wildlife sightings.
Barnyard Friends & Stables, Morrilton, Barnyardfriendsandstables.weebly.com: Guided trail rides plus a petting zoo family experience allowing up-close, hands-on farm animal activity.
Arkansas Equine Adventures, Roland, Arkansasequineadventures.com/courses: Take a scenic tour through the hidden trails of Pinnacle Mountain State Park. Cross over the Little Maumelle River and explore the woods.
Arkansas Riding Stables, Bismarck, Arkansasstateparks.com/parks/degray-lake-resort-state-park/things-to-do/horseback-riding: DeGray Lake Resort State Park is proud to partner with Arkansas Riding Stables to offer our guests a unique horseback riding experience along DeGray Lake's scenic shore and through towering pines.
Bar Fifty Guest Ranch, Bismarck: Horseback trail rides through the Ouachita Mountains.
OK Trading Post, Mountain View, Oktradingpost.com: OK Trading Post provides a unique experience for any lover of animals and the outdoors. It offers scenic mountain trail horseback rides for smaller and larger groups for any occasion. It also has an onsite petting zoo and gift shop.
Mountain Harbor Riding Stables, Mount Ida,  Mountainharborridingstable.com: Mountain Harbor Riding Stables offers scenic trail rides through the beautiful Ouachita National Forest and carriage rides through Mountain Harbor Resort.