A Taste of the South: PJ's Rainbow Cafe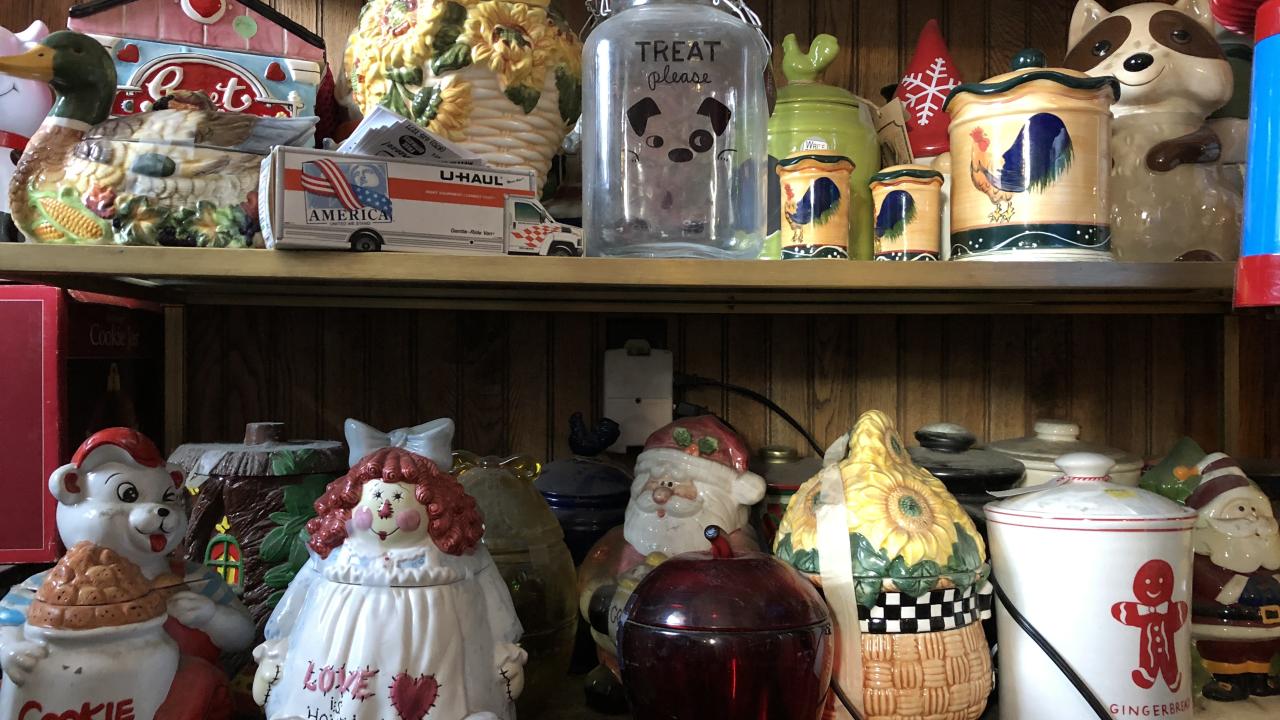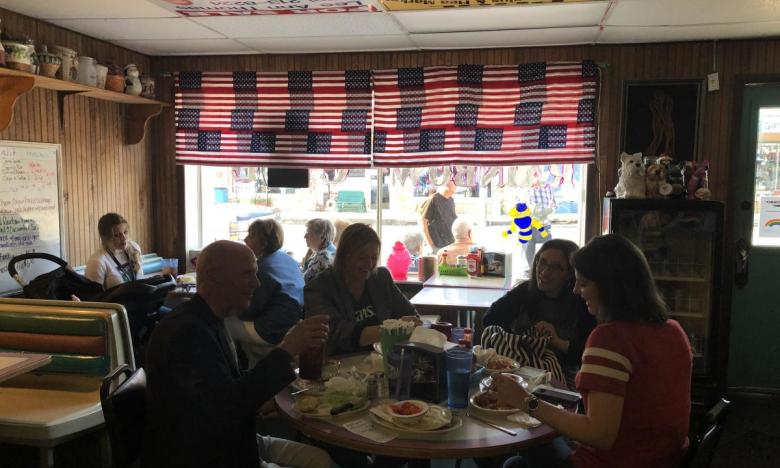 It's not just the food that makes it Southern. First, it's the down home diner feel. Clean but kitschy, PJ's has been around since the 30s. Check out the old black and white photo on the wall above the hostess stand for a glimpse back in time. It hasn't changed much though even though it's changed owners several times over the decades.
It has diner-style tables, chairs and booths as well as eclectic art hanging on the wood-paneled walls. Think black and white photo of Elvis and Johnny Cash to the Beatles in color and an American-themed wreath with silver Christmas ball ornaments.
However, the most popular decor fills the shelves that run the length of every wall of the cafe. Each is packed with cookie jars of every shape, size, color, and design you can imagine. The cookie jars are for sale for $20 a piece and the restaurant sells about 40 a month. In addition to the shelves, they're stacked on every available surface throughout the restaurant. The cafe owner also has antique stores, so as soon as she sells a jar she brings another in from her antique store business. They make for fun conversation while you wait for your food.
"On those days when we fear the rain will wear down our spirits, somewhere waiting, there is a rainbow."
—quote on the menu
Speaking of food, the menu is large and has all the dishes you would expect in a cafe in the rural Ozark Mountains. The down home goodness includes hand breaded chicken fried steak, vegetable plates, meatloaf, grilled chicken wraps, tacos, homemade soup, fried grits, homemade chicken and dumplings, real mashed potatoes, smoked beef brisket, chocolate gravy and biscuits, homemade pies, cheesecakes, Belgian waffles, omelets, pancakes, corned beef hash, spaghetti, burgers, catfish plates, hot and cold sandwiches, salads, Kansas City strip, peppercorn steak, and so much more.
Your waitress is also likely to give you a punch of Southern color. You're bound to be called "honey" in the friendliest of ways when you're asked for your order.
So, if you're looking for that small town, local feel and comfort food, PJ's is the place.
Click here for more information on attractions, lodging and dining in Mountain View. For example, just across the street you'll find Oliver's Bistro, a contemporary lunch venue that's connected to Urban Forge, which sells iron works for the home that they make at their factory just down the street.