Terre Noire Preserve in Arkadelphia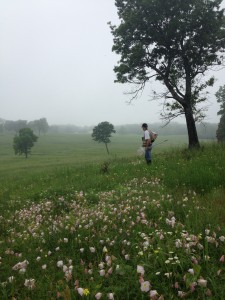 When the state was settled, there were around 2 million acres of prairie. Today, only about three percent of that still exists.  The Terre Noire Preserve in Arkadelphia is one of those places. Last week was the dedication of the 360 acre preserve. This is part of the larger Terre Noire Conservation Area which now includes over 700 acres.
Terre Noire is one of the highest-quality blackland prairies remaining in the state. Its name, taken from nearby Terre Noire Creek, is French meaning "black land"  and comes from the rich black soil found in the region. The soils formed over large oyster beds 150 million years ago when the Gulf of Mexico coastline was located this far north.
It includes large expanses of open savanna and woodland surrounding unplowed blackland prairie remnants and supports several rare plant species not known to occur on other protected areas in the region. The prairie grasslands are home to some 400 different species of plants, and wildflowers bloom from spring to fall. They're also important because they harbor a variety of migratory birds. The land is open to all to roam and enjoy nature. The preserve is open to the public for low impact endeavors like hiking, bird watching and spotting wildflowers.
This preserve is a component of the larger blackland prairie and woodland ecosystem in this area of Clark County. This larger area, which includes Terre Noire Natural Area and a number of privately owned prairies and woodlands, is known to support at least 20 rare animals and plants.
The Terre Noire Preserve, which is part of the Nature Conservancy, is west of Arkadelphia, just north of the Highway 26/51 split.