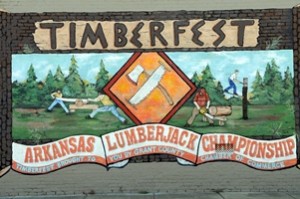 Each year, Timberfest is held the first weekend of October (4-5) in downtown Sheridan. The event is held on the Grant County Courthouse Square. Central to the festival is a Lumberjack Competition and parade. This is the 30th year for the festival.
The lumberjack competition ( which includes neat divisions like the ax throw, horizontal chop, Jack and Jill crosscut, and chainsaw competition) has been televised on ESPN and lumberjacks from across Arkansas and the region go there to compete.
Timber has long played an important role in the south central Arkansas town, nestled amidst a region of towering pines. Its heritage is honored annually during this festival.  The community of Sheridan is somewhat of a rarity in that it is a Southern town named for a Union general — General Phillip Sheridan. The town is 30 miles south of Little Rock via U.S. 167. For more details call 870-942-3021 or visit grantcountychamber.com.