Tinker to Your Heart's Content at the Museum of Discovery
One of the most enduring toys made down through the years is Tinker Toys.  There's just something about building and creating that fascinates all of us, not matter the age.  To take advantage of this appeal, the Museum of Discovery began Tinkerfest last year and is again hosting it again this year.  On Saturday, June 15, more than 50 building and other deconstructing activities will be waiting for visitors.  This free-form experimentation includes the use of screwdrivers, motors, wires, glue, duct tape and more to create our wildest imaginations.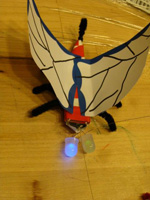 There will be 3D printers, light painting, cars to take apart and more. You'll be able to make jewelry from discarded items, rag dolls, a toy mannequin, and dissemble a vehicle. According to the museum, the workshop is where visitors can work independently or together, creating  along the way.  The ample supply of varied materials means you can experiment, test, and try again. With no right or wrong answers, it is a place of making and sharing."
Hours are 10 a.m. to 4 p.m.  Admission is $10 for adults, $8 for children; free for those ages one and younger and those who are members of the museum. The event is open to all ages.  Museum of Discovery is located at 500 President Clinton Blvd. in downtown Little Rock.