Toad Suck Daze returns to downtown Conway May 5th through 7th
What do you do with a drunken steamboat captain? Name a festival after him! One of Arkansas's most popular (and strangely titled) family festivals returns to downtown Conway May 5-7 for an even bigger weekend of music, entertainment, food, fun, and—most importantly—toad racing.
The event kicks off at 11:00 a.m. on Friday, May 5th, with the official opening of the festival grounds, which means access to vendors and concessions. And since everyone always wants to know about the food, let's get this one out of the way up front. This year's 30-plus concessionaires are bringing their a-game, and specialty offerings like foods on sticks will rival those found at the State Fair in their inventiveness. Ever seen spaghetti and meatballs on a stick? Neither have we, but we're looking forward to seeing how that works. Also on sticks will be alligator, burgers and strawberry shortcake. Thematic offerings like Toad Suck succotash, toad tea and frog-leg baskets (don't worry—toads are returned to Tucker Creek after races).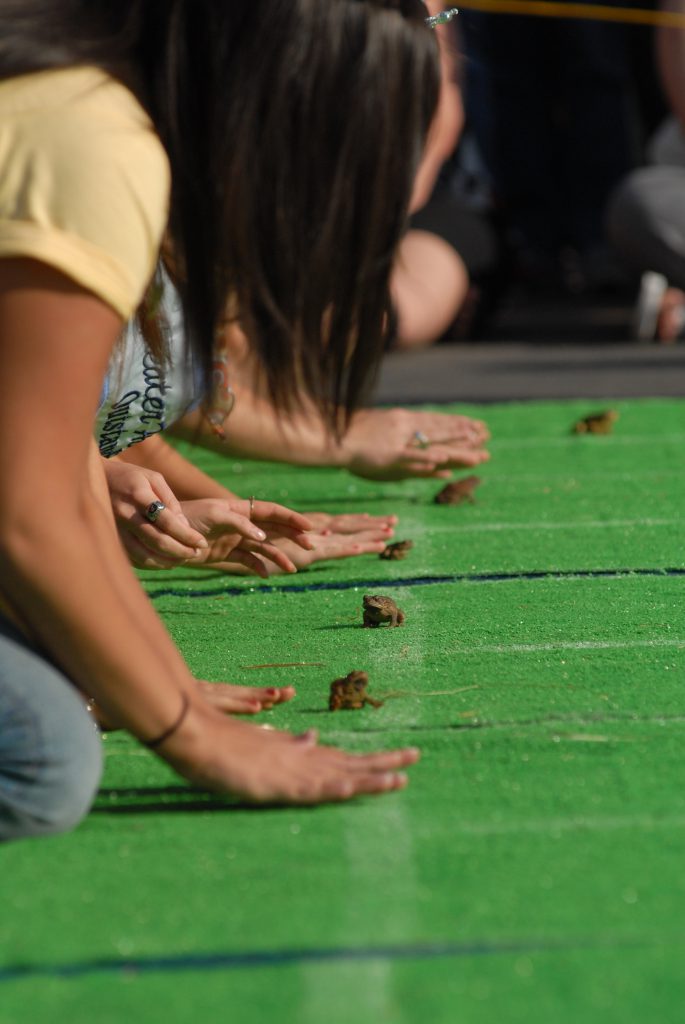 Take note, foodies: All weekend, Cherokee Casino will be reimbursing every 36th attendee who turns in an eligible receipt to the Cherokee booth. So hang on to those receipts!
Big news for kids this year includes a major expansion to the sandbox area, which will be unveiled at 6:00 p.m. on Friday with a Toady Prize Dig. Also new this year, the festival is partnering with the Boy Scouts to do a district-wide Pinewood Derby, so there will be opportunities for open racing. On Sunday morning from 10:00 a.m. to 12:00 p.m. and Sunday from noon to 2:00 p.m., AETN Kids will bring favorite PBS characters to life for a meet-and-greet; expect throngs for Daniel Tiger et al. Of course, the main event take place in the Toad Dome, with races at all levels happening throughout the weekend, culminating in the World Championship Toad Race at 3:00 p.m. on Sunday.
Entertainment will take place on three stages (as well as in some local music venues, for the late-night crowd). The lineup, which is channeling an '80s hair-band vibe, includes Saturday headliners Kip Winger of Winger, Jack Russell's Great White, and Dokken. There are still some entertainment surprises to come, so stay tuned.
For those who want to sweat a little and get away from the thick of downtown, there are the Toad Suck 10K and 5K run/walk and Tadpole Trot on Saturday at 8:00 a.m., the Tour de Toad and Iron Toad bike races on Saturday at noon, and the kids Crawl, Drag and Squirt obstacle course on Friday at 5:00 p.m. and Saturday at 11:00 a.m. The Toad Market will have more than 150 vendors selling everything from apparel and jewelry to crafts and home goods.
As if all this weren't enough, don't forget that at its heart, this event exists to make communities in Conway and Faulkner County even better—and not just by providing a weekend of family fun that attracts an estimated 150,000 people each year. Since beginning its Toad Suck Daze Community Service Scholarship Program in 1985, the festival has donated more than $1.6 million dollars to initiatives including scholarships, endowments, and community improvement projects. That's saying a lot for a festival that is totally free to attend!