Too goat to be true? We kid you not
If you've ever lost an hour to watching videos of goats standing on, stomping over, jumping off of or head-butting stuff, boy do we have an event for you! The first-ever Arkansas Goat Festival, a daylong celebration of all things horned, hoofed and bearded, will take place Saturday, Oct. 1, from 10 a.m. to 7 p.m., in Perryville City Park. The event, created and presented by Crescent Creek Farm in Perry, is free and open to goat owners and enthusiasts of all ages. Sarah French, co-proprietor of Crescent Creek with her husband, William, says the idea for the festival came from a moment of pure whimsy. "I just thought it would be a lot of fun to watch a goat parade," Sarah explains. "Then I thought it would be even more fun to watch them in costume." Given the scarcity of models for goat-focused events nationwide (Sarah mentioned two that she knew of), organizers let imagination run wild in setting the day's super-fun schedule. Highlights include: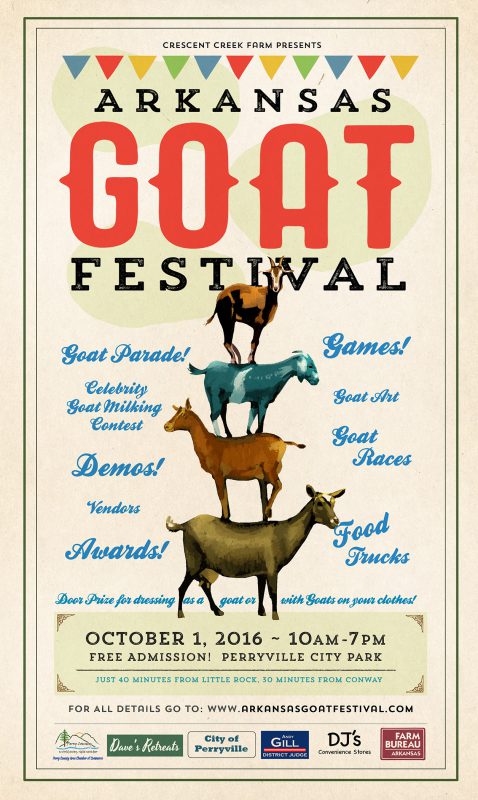 In addition to all this will be live music from The Boomers, Donnie Lee Strickland and Fat Soul Band plus treats from food trucks and local restaurants. Loblolly Creamery will offer a special goat's milk ice cream, and Mustang Sally's will have chili and smoked meats—to name just a couple culinary delights in store. And lest you think it's all fun and goats, Sarah says the festival also fulfills her mission to do something positive for her community and for the state. Attendees are encouraged to bring their goats, which will need to have scrapie tags or tattoos with registration papers (out-of-state goats will need a certificate of health). Goats must be kept on-leash, but there will be a "goat check" so owners can have some free time to roam and enjoy the festival. Opportunities for petting will be abundant, and those who don't have goats are encouraged to dress like one—there will be door prizes for anyone either dressed as a goat or wearing goat-themed clothing.
For more information about the festival, visit the website here or the Facebook page here.