Top Oaklawn Jockeys to Attend Special Event during Governor's Conference on Tourism
A neat chance to meet some of the nation's top  jockeys takes place in Hot Springs next week during the Arkansas Governor's Conference on Tourism ( March 3-5). Attendees of the conference have a chance to visit one-on-one with some of Oaklawn's best riders at "Tips and Tales," a special event on Monday night ( March 4) taking place during the event. Jockeys  that will be there include Calvin Borel, Rosemary Homeister, Jon Court, Luis Quinonez, Jenna Joubert and Terry Thompson.
During the event, beverages will be mixed by the jockeys and served with a "side of horse tales".  All tips collected at the event benefit the Permanently Disabled Jockeys Fund.
"We brainstormed on ways that Oaklawn could be involved in the Governor's Conference and this kind of came to us," said David Longinotti, Assistant General Manager of Racing at Oaklawn, on what initiated the idea for the event.  "It will be neat for folks from other areas of Arkansas to be able to have a meet and greet with some of the jockeys we have here. This is one of the few states where jockeys are treated like celebrities."
This is an exciting season for Oaklawn. Calvin Borel  is one ride away from a landmark  5,000 career win and overall  the track is hosting a strong field of riders. "We do have a pretty deep jockey colony this year," said  Longinotti. "We typically do but this one is a little deeper than it has been n the past. We have got some new faces—people like Rosemary Homeister who is the second leading female jockey of all time. This is her first foray into Oaklawn and she is doing quite well. She has certainly made herself very popular with the fans."
Oaklawn is one of the premier race tracks in the country. Best known as the home of the Racing Festival of the South and Arkansas Derby, the track has played host to some of the biggest names in the sport including champions Zenyatta, Rachel Alexandra, and Smarty Jones. The live Thoroughbred horse racing season started in January and the racing action concludes April 13 with the 77th running of the $1 million Arkansas Derby.
Here is a look at some of the jockeys that will be there:
 Calvin Borel
All eyes have been on Calvin Borel on his quest for his 5,000th career win – a feat only 24 other jockeys have ever attained. He is one win away from this historic milestone. The landmark win happening in Arkansas is neat as Borel attained his 3,000, 4,000, and is now approaching his 5,000 victory—all at Oaklawn.
Borel has been delayed in his quest when he fractured his wrist a few days before Oaklawn's opening Jan. 11. He has just started racing again and will next be riding Rose to Gold when she races next in the $150,000 Honeybee Stakes  at Oaklawn March 9.
When he reaches number 5,000, the event will be celebrated at Oaklawn by giving out free trading cards of Borel to those in attendance that day. The cards will have a color photo on the front and text information on the back along with information about visiting Hot Springs.
In recent years, Borel, a two-time-riding champ at Oaklawn, has become synonymous with Kentucky Derby success, winning the Run for the Roses three times in four years between 2007 and 2010 including with 2010 Arkansas Derby runner-up Super Saver. The Kentucky Derby streak is matched only by riding great Eddie Arcaro. He became a household name by riding Mine That Bird to victory in the 2009 Derby, but then sticking with eventual Horse of the Year Rachel Alexandra in the Preakness two weeks later.
Rosemary Homeister
Jockey Rosemary Homeister Jr is among the new riders that is racing at Oaklawn this season. Homeister Jr. is the second-leading female rider of all time behind only Julie Krone.
She won 125 races last year and is coming off a solid third in the standings at Arlington Park and a top 10 finish at Hawthorne. She will be riding at Oaklawn for the first time in her 20-year career.
Homeister, Jr has quite a list of credentials to her name, being the first female to win the Eclipse Award for Outstanding Apprentice Jockey in the United States. She is also in the Calder Race Course Hall of Fame
Jon Court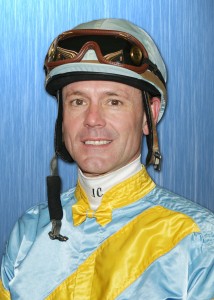 Veteran jockey Jon Court has ridden horses at numerous racetracks across the U.S. He was a leading rider at Oaklawn in 2000 and was once again among the leaders last year with 25 victories. He was born in Gainesville, Florida, where his family had horses. Inspired by Bill Shoemaker, he began wanting to be a jockey when he was a kid. Court grew up around horses in Florida, but got his start riding in Colorado in 1980. He later rode in Louisiana for many years before setting up shop in the Midwest where he was a perennial leading rider at Ellis Park and Hoosier. He moved to California in 2004 and was among the riders featured in the television show "Jockey" before returning to the Midwest in 2009. Court won the Arkansas Derby in 2011 with Archarcharch and also rode the horse in the Kentucky Derby that year—a milestone as it was his first Kentucky Derby debut. Court's son also Aaron also races.
Luis Quinonez
Entering his 16th straight season in Arkansas, Jockey Luis Quinonez, who is from Sinaloa, Mexico, had a highlight year last season, finishing fourth in the standings with 35 wins and piloting Pin Oak Stable's Alternation to three straight victories in the Essex, Razorback and Oaklawn Handicaps. Quinonez made his North American debut in 1989 and earned his 3,000th win in 2011.He is the oldest of three jockey brothers.
Jenna Joubert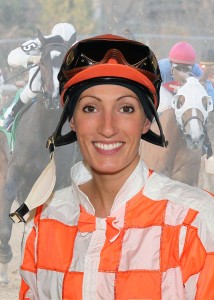 Jenna Joubert was born in Minnesota-her family owned race horses and she grew up in the realm of racing. She got her start working with horses for Noel Hickey, a family friend, in Ocala, Florida. It was while working with him that she got started in racing. Her jockey career began in 2007 at Canterbury Park in her home state- which was also the place of her first win. Her first career stakes win – the 2009 John B. Campbell at Laurel Park – was also the first one for eventual multiple Grade 1 winner Richard's Kid.  Her circuit currently is Oaklawn, Prairie Meadows and Remington Park. This will be her third winter in Hot Springs.
Terry Thompson
Terry Thompson has been a model of consistency over his career.  He last won the Oaklawn riding title in 2010, but finished 2nd in both 2011 and 2012. He has more than 2,500 wins (he landed his 2,000th at Oaklawn in 2007) and was a protégé of Hall of Famer Jack Van Berg at the start of his career in 1992, and today is among the regular riders for Hall of Famer D. Wayne Lukas, who gave him first Kentucky Derby mount in 2010 aboard Dublin.
During Tips and Tales, beverages will be mixed by the jockeys and served with a side of horse tales.  The event takes place after the Arkansas Tourism Foundation auction in Hall A of the Hot Springs Convention Center at 134 Convention Boulevard. For more details on the event or the Arkansas Governor's Conference on Tourism , contact Marla Crider at [email protected] or at 501-682-1120.