Triple Threat Lives Up to Their Name
https://youtu.be/jq1UMO_PkFY?t=26s
I recently had the opportunity to hear the vocal group from Benton, Triple Threat, perform in person at the Arkansas Press Association convention. The trio has appeared on NBC's America's Got Talent television show and will be on again tonight. They certainly live up to their name. They are, indeed, a triple threat.
A watch party for tonight's show at 7 p.m. is being held at the Benton Events Center. The free event, which will include trio members Caleb Conrad, Tyler David, and Will Richey, begins at 5:30 p.m. Make plans to go cheer these young Arkansans on.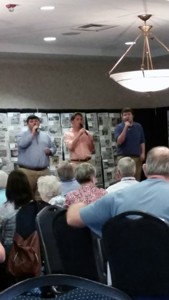 The three, who met while all were on the Benton High School football team, became friends when they were all injured at the same time. Triple Threat first appeared on America's Got Talent in May when they performed MKTO's song "Classic" which garnered them praise from all four judges. A clip of it on the show's official YouTube channel pulled in more than 3 million views.
Win or lose tonight, if you get the opportunity to see the guys live, take advantage of the opportunity. You won't regret it. Congratulations Triple Threat! You do Arkansas proud.