Turtle Cove Spa in Mount Ida Among Top Spas of America
Turtle Cove Spa at Mountain Harbor Resort in Mount Ida has made the Top 100 Spas of 2014 list from Spas of America. The spa has received this recognition for the last five years and has been in the Top 20 the last three.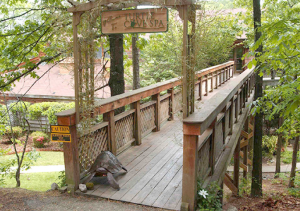 Turtle Cove Spa is a destination spa and treatments available include massages, facials, salon services, crystal energy work and more. The spa's location helps it stand out from other spas in Arkansas and the nation. "Our secluded location on Lake Ouachita and in Mount Ida allows us to incorporate our natural surroundings into our treatments," said Turtle Cove Spa owner Mary Schinbeckler. "Montgomery County is the Quartz Crystal Capital of the World and the crystals here have a frequency unlike any other.  The LOViT Trail [Lake Ouachita Vista Trail] is right in our backyard and is a perfect for hiking and biking enthusiasts.  And what better way to rejuvenate after a strenuous, active day."
Examples of specific massage treatments available include custom massages, hot stone massages, reflexology massages, deep tissue massages, kids massages, and couples massages. You can also add on special enhancements to these such as opting to have your massage done outside at the Wilderness Pavilion. This secluded pavilion overlooks Lake Ouachita.  In the spring and fall, massages for individuals or couples in our Wilderness Pavilion overlooking Lake Ouachita are delightful," said Schinbeckler.  "Soft breezes along with the sounds of the water and forest help calm the mind and reconnect to nature."
Schinbeckler said one treatment you won't find anywhere else is the spa's Crystal Energy Balance Therapy. "This holistic treatment uses the heated, polished quartz crystals from local Montgomery County crystal mines and is similar to a hot stone massage," she said. "It is an 80-minute treatment and also includes a Chakra Balancing focusing on the 7 energy centers of the body."
For body treatments, the staff custom-blend their our own products, Mermaid's Touch and Ouachita Sunrise, which are also available for purchase. "We also make our own candles with our signature scent, Turtle Tranquility, which we burn in the spa and also retail so that you can recreate your spa visit at home," said Schinbeckler.  "This year we also plan to add a blending bar so that guests may create their own sensory experience."
The spa is located at 181 Clubhouse Drive at Mountain Harbor Resort. Turtle Cove Spa is open year round, but the hours (which are updated online monthly) vary by season. Of note: Turtle Cove Spa also has a sister spa (which offers slightly different services) located at DeGray Lake Resort State Park in Bismarck called Blue Heron Spa.