Two Cosmic Conferences Back to Back in Eureka Springs
The 11th annual Ozark Mountain Transformation Conference, a unique metaphysical and spiritual gathering with a psychic fair open to the public from April 5-7, will precede the 29th annual Ozark Mountain UFO Conference on April 8-10, both at the Inn of the Ozarks in Eureka Springs.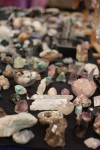 Both conferences will feature keynote speaker Erich von Däniken, bestselling author of the "Chariots of the Gods" books and a pioneer of Ancient Astronaut Theory that states the gods of ancient times were extraterrestrials who created mankind and shaped civilizations for millennia. Erich von Däniken will present part one of his "Unsolved Mysteries of the Past" lecture on April 6 at the Transformation Conference, and conclude with part two at the Ozark Mountain UFO Conference on April 9. Special discounted packages to register for both conferences are available and both conferences will feature their own keynote speakers in addition to Erich von Däniken.
Founded by author, hypnotist and past life regressionist Dolores Cannon, The Ozark Mountain Transformation Conference is a venue for Ozark Mountain Publishing authors to share their books and insights into all sorts of metaphysical topics, from healing to channeling, psychic abilities, dreams, spirituality, and much more. Many of the speakers will also offer workshops, personal readings and sessions that can be booked in advance by calling (800) 935-0045.
For details, visit:
Ozark Mountain Transformation Conference: www.transformation-conference.com
Ozark Mountain UFO Conference: www.ozarkufoconference.com