Two reasons you should head to Fayetteville this weekend
Why should you head to Fayetteville this weekend? Music and Murals, that's why. Oh. And food. Definitely the food too.
This intimate, urban music and food festival brings the finest musicians and chefs to the stages of Northwest Arkansas on Aug. 23-27. It features 10 music stages and multiple culinary stages. The Roots MainStage is at Fayetteville Town Center with additional performances and events at stages around Fayetteville and a couple in Bentonville this year: George's Majestic Lounge, Crystal Bridges Museum of American Art, Fayetteville Public Library, Maxine's Taproom, Kingfish Dive Bar, Stage 18, The Chancellor Hotel, Brightwater Culinary School, and the Fayetteville Farmers' market.
The music comes from national and regional acts with diverse musical styles such as folk, blues, bluegrass, jazz, country, and more.
The food-side of the festival supports local farmers, chefs and restaurants but this year also includes a chef from another country.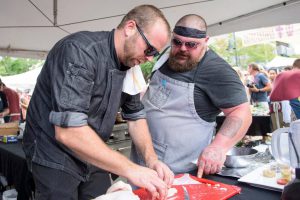 As if that's not enough, there are film screenings, live radio broadcasts, songwriting workshops, family concerts, and live art as part of the festival schedule. New this year is the launch of The House of Songs Ozarks in Northwest Arkansas with an open house, concert and related events during the Fayetteville Roots Festival. Click here for details about The House of Songs.
Check out TheRootsFest.org full schedule of events now!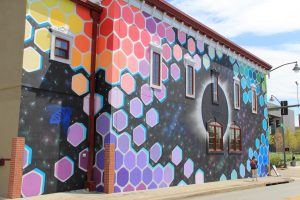 Fayetteville has partnered with Justkids for a weeklong public arts event, called Green Candy, and held between Aug. 17 and Aug. 24. So while you're in town for the Roots Festival, you'll be able to check out five works of public art installed throughout Fayetteville.
Internationally-recognized artists producing art for the event are:
Each of the artists will create either a mural or a three-dimensional piece of art to be displayed around downtown Fayetteville. Locations include: the Walker-Stone House at 207 Center St., One West Mountain, Hog hause Brewing Co., and 545 W. Center.
Justkids curates The Unexpected event in Fort Smith, which has led to more than 30 murals throughout the town. Last year it also included installation of Puerto Rican artist Alexis Diaz's owl mural on the former Mountain Inn building, located at the intersection of College Avenue and Center Street in Fayetteville.