Two Weekend Shopping Opportunities You Don't Want to Miss
Halloween is past and Thanksgiving is on its way, which means it's time to start marking items off of your Christmas list. Here are two excellent opportunities for doing just that this weekend.
NWA Boutique Show
The Northwest Arkansas Boutique Show kicks off Friday, Nov. 7 and Saturday, Nov. 8 at the Northwest Arkansas Convention Center in Springdale. You can shop 150 booths stocked by talented merchants from all over the region. They will showcase thousands of unique and hard-to-find gifts, décor, clothing, accessories, gourmet foods and more.
The shopping extravaganza takes place from 11 a.m. to 5 p.m. on Friday and from 9 a.m. to 6 p.m. on Saturday. The cost for general holiday shopping is $3. VIP shopping is available from 9 a.m. to 11 a.m. on Friday. The cost is $20 at the door or $18 online (through tomorrow, Nov. 6).
VIP shopping gives you first dibs on all the offerings, plus you get to grab a swag bag filled with goodies from Loreal, Maybelline, Nivea, Bio-Oil, Synder's Pretzels, NUK, Bayer Healthcare, MilkSplash, Old Orchard, Downy Unstopables, Slim Chickens, Beauty World, Mary Kay and more. Also part of the VIP fun is live Christmas jazz by Rachel and Jamie, and sampling freshly roasted whole bean coffee from Mama Carmen's Espresso Cafe and famous homemade brownies from Ozark Natural Foods.
You'll also receive free return general admission all weekend and the chance to win hundreds of amazing door prizes.   Order VIP tickets here.
The boutique show also offers Girls Night Out: "Merry & Bright" shopping from 5 p.m. to 9 p.m. on Friday at a cost of $10 at the door or $8 if you buy online through tomorrow.   Order GNO tickets here.  Shop to the tunes of D.J. Brian while sipping beverages and sampling delicious treats from JJs Grill, Slim Chickens, Orange Leaf, Ozark Natural Foods and Nestle Waters.
Cookies With Santa shopping takes place from 10 a.m. to 2 p.m. on Saturday. It's the first sighting of Santa Claus and his sleigh and parents are welcome to take photos of their child with Santa. The boutique will serve milk, juice and cookies from Highland Dairy and South Coast Baking… along with a fun assortment of flavorings from MilkSplash.  The Salvation Army Women's Auxiliary will ring the bell and donations to the traditional red kettle are encouraged.
If you're coming from out of town and want to make it an overnight trip, the Springdale Holiday Inn, which is next to the convention center, has a special rate of $86 per night for boutique show shoppers. The rate includes two complimentary breakfast vouchers per room per night AND two complimentary general admission shopping tickets to the NWA Boutique Show at Will Call.  Reserve your room by calling the Holiday Inn directly at 479-751-8300 and request the "Boutique Show" Block or click here.
Holiday Shopping at the OFC Craft Village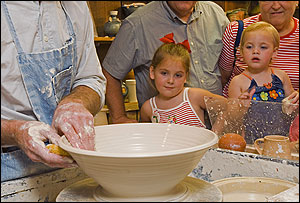 From 10 a.m. to 5 p.m. on Friday, Nov. 7 and Saturday, Nov. 8, the Craft Village at Ozark Folk Center State Park in Mountain View is open free of charge to coincide with the Mountain View Bluegrass Association's Fall Festival.
Looking for a place to do some unique holiday shopping? The Ozark Folk Center State Park Crafts Village has more than 20 artisans demonstrating, making and selling traditional and contemporary Ozark heritage crafts. Craft shops in the park include basket weaving, broom making, blacksmithing, pottery making, knife making, weaving, quilting, wood carving, yarn spinning, soap making, stained glass, jewelry making, dress making, herb gardening, coopering, doll making, candle making, and more.
The mission of Ozark Folk Center State Park is to perpetuate, present and promote the Ozark way of life in an educational and enjoyable manner; through craft demonstrations, musical programs, the Heritage Herb Garden, workshops and other special events.
Between the beginning of April and the end of November, the Ozark Folk Center State Park offers visitors a chance to experience the living tradition of Ozark craftsmanship and visit with the people who make their living with these crafts. The Village is open from 10 a.m. to 5 p.m. Tuesday- Saturday. Regular admission to the park is normally $12 for adults and $7 for children, so this free weekend is a real treat. A family pass is $29.50.
Contact the park at 870-269-3851 for more information.  Visit the web site at www.ozarkfolkcenter.com for more information on classes, concerts and the Ozark way of life.