U.S. Supreme Court Justice Antonin Scalia to Headline First Winthrop Paul Rockefeller Distinguished Lecture Series
U.S. Supreme Court Justice Antonin Scalia will headline the first of three Winthrop Paul Rockefeller Distinguished Lecture Series presentations in Fort Smith. Scalia will speak at 1 p.m. on Feb.26 at ArcBest Performing Arts Center, located in the Fort Smith Convention Center. The lecture is free and open to the public.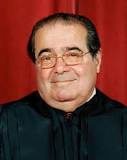 The three-year series will welcome leaders from the executive, judiciary and legislative branches of the U.S. government to Fort Smith to speak about the U.S. Marshals' rich history to each branch, U.S. Marshals Museum officials announced in a recent press release.
Mrs. Lisenne Rockefeller, wife of late Lt. Gov. Winthrop Paul Rockefeller, made a grant to the museum earlier this year to fund the national lecture series.
"My husband would have been pleased to know that Justice Scalia will launch the inaugural presentation of this national lecture series named in his honor," said Mrs. Rockefeller in the press release. "I look forward to having Justice Scalia in Arkansas to highlight the interwoven history of the judiciary branch and the U.S. Marshals Service."
Appointed by President Ronald Reagan and confirmed by the U.S. Senate in 1986, Justice Scalia has served as an associate justice for the U.S. Supreme Court for more than 27 years, and is the Court's longest serving justice. Originally from New Jersey, Justice Scalia earned his bachelor's degree from Georgetown University and his law degree from Harvard Law School. He practiced law in Ohio before joining the faculty of the University of Virginia School of Law. Justice Scalia served in both the Nixon and Ford administrations before moving on to the American Enterprise Institute and a teaching post at the University of Chicago Law School. It was from there that President Reagan first appointed him to the Court of Appeals for the District of Columbia in 1982 and the U.S. Supreme Court four years later.
Although free, a reservation will be required for admission to the lecture.
Seats may be reserved by emailing [email protected].