Visit an Arkansas nature center in March
What's the best part about March? Warmer weather or Spring Break? Either way you answer, it means more opportunities to get outside and enjoy the wonders of nature. A great way to do that is by visiting one of the Arkansas Game & Fish Nature Centers.
The nature centers have outdoor fun, indoor learning centers, and programs to learn about that center's particular region and nature.
There are four centers in Arkansas. Find the one nearest you and make plans to visit.
Arkansas River Valley Nature Center in Fort Smith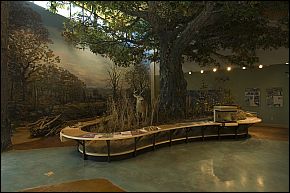 This nature center was built on former Fort Chaffee land in Fort Smith next to Wells Lake, a popular spot for fishing and picnics. It includes a gift shop, classroom, multipurpose room, wildlife workshop, and a 1,200-gallon aquarium containing species relevant to the Arkansas River. Take a stroll on the wheelchair-accessible trail, which has wayside exhibit signs highlighting the environment and history of the lake and surrounding property.
Central Arkansas Nature Center in downtown Little Rock
This center overlooks the Arkansas River and provides many watchable wildlife opportunities within an urban area. Exhibits highlight the role of fish and wildlife management and projects conducted throughout the history of the Arkansas Game and Fish Commission. A portion of the Arkansas River Trail crosses the grounds. It has an exhibit hall, aquariums, gift shop, and theater.
Crowley's Ridge Nature Center in Jonesboro
The center contains exhibits on the origins and history of the Ridge, topographical models and a 30-foot-long satellite photo of the unique land mass. It also has an observation tower, duck hunting display, auditorium, meeting room, natural prairie preserve, and a trail looping a lake.
Delta Rivers Nature Center in Pine Bluff
The center features exhibits that reveal the natural history of Arkansas's Delta region and a 20,000-gallon oxbow lake aquarium containing native fish species, live snakes, turtles and alligators. Hiking trails through 130 acres of woodland "bottoms" give visitors a first-hand look at the vegetation and wildlife characteristic of the area. Other features include short historical and Delta "fly-over" films; preserved specimens of the Delta's birds, mammals and fish; exhibits on hunting and fishing, the changing nature of Delta rivers and the importance of wetlands; and a gift shop.