A Visit to Fox Pass Pottery
Since 1973, Fox Pass Pottery has been a landmark of the Hot Springs
arts community.  The studio is set in a woodland setting nestled against Hot Springs National Park and features handmade pottery by Jim and Barbara Larkin. The Larkin's specialize mainly in functional work and Barbara does sculptural work. Jim's work is made on the potter's wheel and Barbara's is hand built.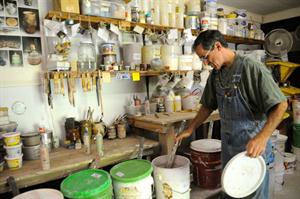 that we have," said Jim. They also mix their own glazes, which are formulated for
specific colors and surface qualities. After glazing, the pottery is fired in either a gas or wood fired kiln to 2350 degrees F. The finished pieces are durable and safe for putting into dishwashers, ovens, or  microwaves.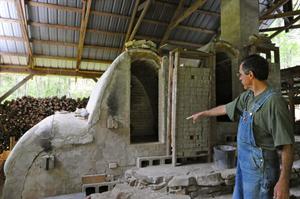 The most popular items they make are mugs. "I love to make them because I know people are going to use them," said Jim. "We look at other cultures and we talk about their rituals as if we don't have our own. But they are so common to us we sometimes take them for granted. But getting up in the morning and having your coffee…I collect mugs from other potters and I'll look them over and I'll pick a mug out that just feels good, there is something to it that I really enjoy. And that morning cup of coffee just sort of relaxes me and gets me ready for the day and there is that ritual involved with that." When he makes a mug, "I want it to be one that brings someone some bit of
pleasure," he said. "And that's true with all the pottery we make."