Visiting Sassafras Springs Vineyard & Winery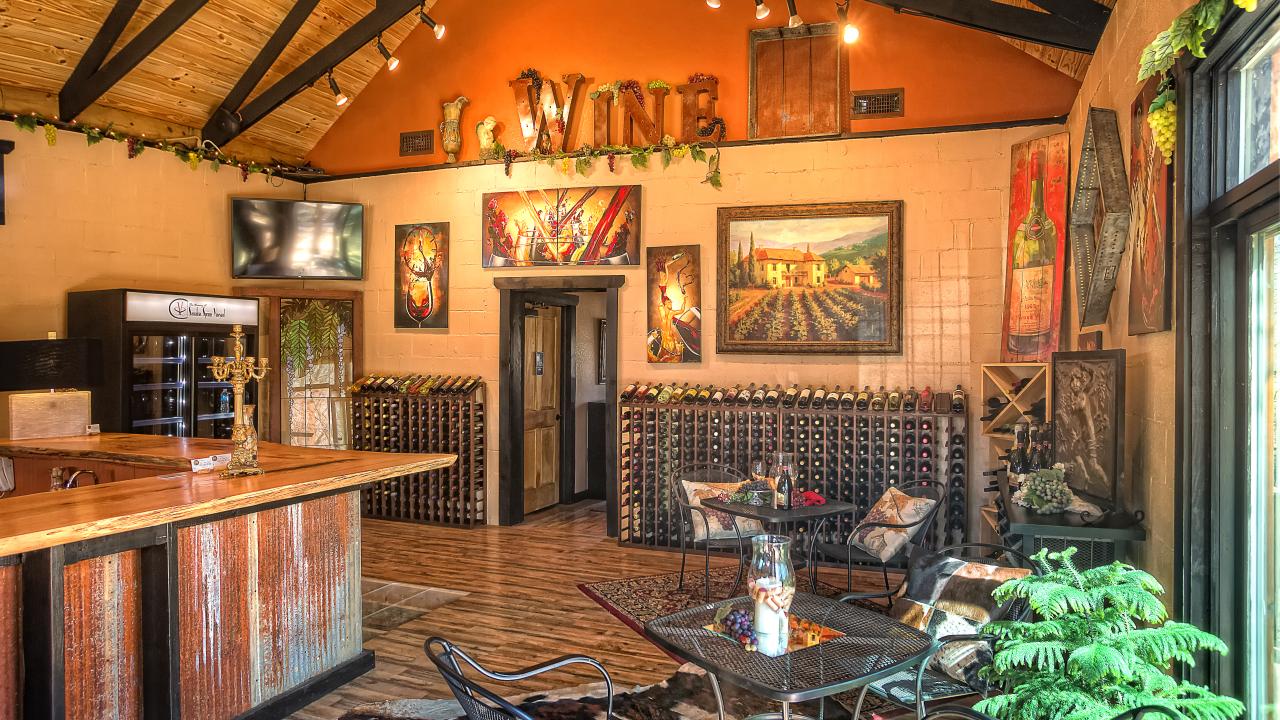 Sassafras Springs Vineyard & Winery is all of the good things in life - a place to enjoy delicious wine, food, camaraderie with friends, vows for a lifetime, celebration events, nature and more.
Buildings sprawling between open meadows, woods and a creek provide a warm cozy appeal. The natural setting welcomes visitors with an instant unwinding, like the first deep breathe of a long awaited vacation and the joy that rushes in behind it.
Terraced decks on the back of the tasting room provide numerous seating options for you and your friends to enjoy some vino. There are three large decks, an enclosed patio, creekside patio and a covered patio. Don't miss live music by local musicians outside on weekends, April through October.
In the distance, 50 acres and the chapel ruins call for exploring, or at least a stroll with glass of wine in hand. The planned chapel ruins summon romance even if you're not there for a wedding. You can also see the wine making facility and the event center, which is decked out with special decor like chandeliers made from wine barrel rings. Other fun elements include  whimsical dragonfly, butterfly and peacock benches on the grounds
Inside the tasting room, order wines, beer and food. The winery's beautiful charcuterie and cheese boards with items from local artisans include meat, cheese, grapes, olives, nuts, crackers, bread and honey. They also now serve pizza.
"We just want people to have an amazing experience," Cheryl says. "People can get wine in town or at a store, but here we want it to be about the experience."

The Wines
Sassafras has made six varietals of wine since opening in 2014, including syrah, chardonnay, rose and riesling. Currently, Sassafras produces about 1,000 cases of wine each year in its production facility.
"We've won a couple of silvers and one or two golds," Cheryl says. Out of 4,000 entries from all over the world at the New York international competition, their syrah took gold recently.
While their wines are made with fresh grapes brought in from other regions of the state, they made their first Arkansas wine in 2018 from a chambourcin grape grown in The Natural State. Sassafras is also currently growing hybrid grape creations for the University of Arkansas. "Opportunity and Enchantment are the names of the two grapes we're growing for them," says Cheryl. They are apt names for a winery that also serves as a popular wedding venue.
Sassafras also has a great selection of wines from all over the world as well as other local wines and beer from Arkansas purveyors.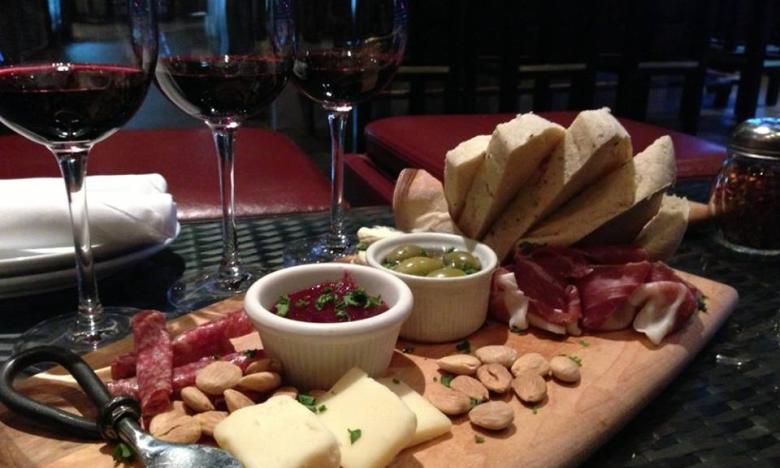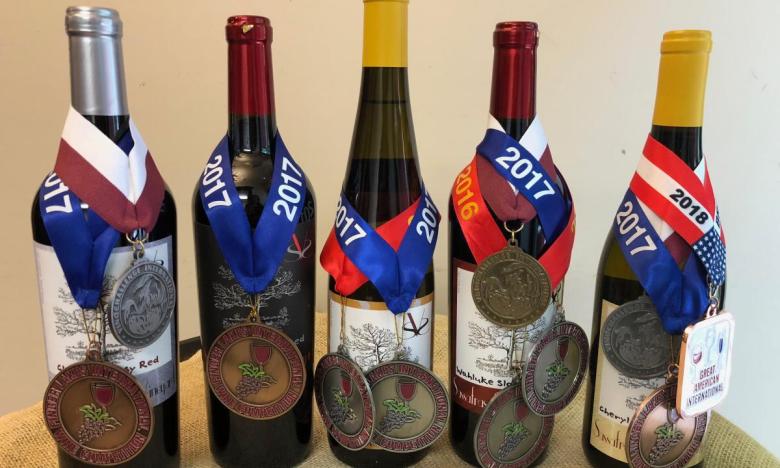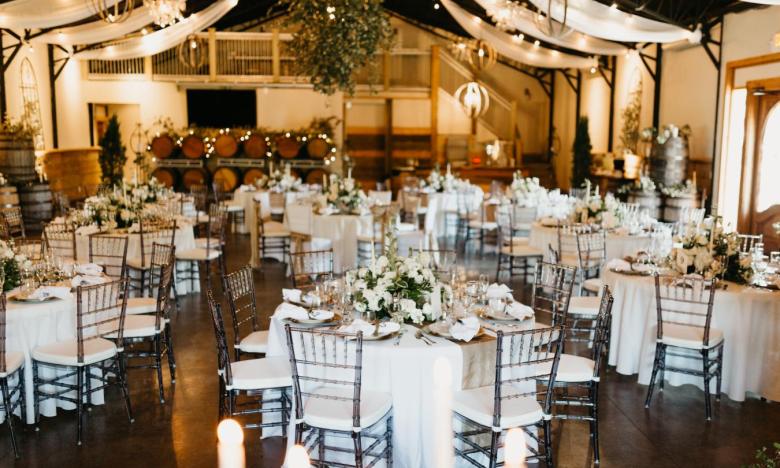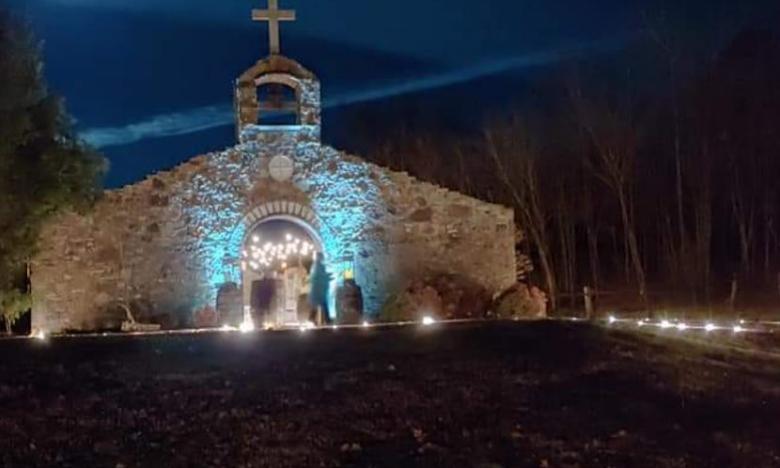 How It Came To Be
"We both love creating spaces and creating things," Cheryl says.
Married 18 years, Gene and Cheryl met when they were both starting insurance agencies from scratch. Eventually, they married and ran six agencies together. They also bought land in east Fayetteville and developed Bridlewood Estates subdivision. Next to the subdivision was land owned by Houston Nutt, a former Arkansas Razorback head football coach. The land was available.
Cheryl decided she wanted to build a chapel ruins for weddings. Then, Gene said he wanted to turn the dairy barn on the property into a winery.
"Initially, we got started because Cheryl really wanted to build that chapel up there," says Gene. "And we were walking around and I thought, 'oh, this would make a nice winery."
And so, that's just what they did, opening in May of 2014.
Cheryl consulted with the stone mason who helped build the subdivision and their house. She laughs at the memory of him pulling out his iPad to show her his Pinterest account full of ruins he had pinned. "I put a stake on the four corners and said it needs to be this dimension and have at it. We dug the foundation and Gene and I put the first stone in."
Evidence of the dairy barn still exists. On the floor of the tasting room you can look down into what was once a pit where farmers stood to milk the cows. Now, it is filled with bottles and bottles of wine.
"Cheryl and I have always been fortunate that we can kind of visualize things. We don't hire architects. We can see it ourselves. It's a blessing from God. Every time we turn around we are adding something to it.
In 2019, the couple opened The Lodge at the Winery. The building, with 3,000 square feet of interior space, boasts a large great room measuring 20 by 40 feet, four elegant suites, five bathrooms and a small, well-equipped kitchen. The suites sleep eight and come with plush bathrobes and high-end soaps and lotions. Two adjoining suites with a spacious, shared dressing area, are ideal for bridesmaids preparing for the wedding.
Cheryl adds that she didn't have the background of the wedding and event industry, so she has been surprised at how much activity takes place on the property day to day. "There are a lot of events going on at the same time every day and a lot of spaces to set up. There might be a wedding in one space, birthday in another and a rehearsal dinner too. Gene and I just know God is good. He blesses us. He always blesses us and we know that it's not our genius."
"There's no book or business model on how to start a winery," Gene adds. "We wanted to have something to pass down to the family and our children. We really are just building an awesome winery and hoping to leave it to our kids and grandchildren." In the meantime, Sassafras is how they are enjoying their retirement, along with plenty of travel.