VoiceJam Competition Finalists at Walton Arts Center
NOTE: There is no longer a showing of the Pitch Perfect 2 as originally publicized. The studio has pulled all pre-screenings and is going straight to their opening night. 
If you're a fan of the movie Pitch Perfect, you're going to love Voicejam.
The Walton Arts Center in Fayetteville is producing a brand new a cappella festival VoiceJam, on Friday, April 10, and Saturday, April 11. Collegiate and community vocal groups will participate in the competition judged by some of the hottest professionals on the a cappella scene. Deke Sharon, producer of NBC's "The Sing Off" will serve as the official host of VoiceJam.
During the festival there will be performances, workshops and guest appearances from award-winning a cappella quintets, The House Jacks and Voco Novo. The winner will have the chance to compete at the VocalAsia Festival in Shanghai, China.
Weekend festival passes range from $70 to $100 and can be purchased by clicking here: VoiceJam Weekend Pass. This pass allows access into Friday's competition, all Saturday workshops (beginning, intermediate and advanced classes available).
Single tickets are also available for purchase. All ticket types can also be purchased in person at the Walton Arts Center Box's Office, by phone at 479-443-5600 or by visiting www.waltonartscenter.org.
Here are additional details for the festival from a WAC press release:
Workshops
Saturday, April 11
A full day of expertise, training and fun will take place at Walton Arts Center with instruction from Deke Sharon, The House Jacks and Voco Novo. Available workshops include:
Ticket prices range from $70 to $100; visit VoiceJam Weekend Pass to learn more.
Competition
Friday, April 10 at 8 pm
Deke Sharon, hailed by Entertainment Weekly as "the father of contemporary a cappella" will host the competition as audiences of all ages enjoy the high-octane performances. Nine groups have been selected to compete and Walton Arts Center is excited to welcome them to the stage. The competition will be judged by a versatile and world-renowned group of vocal experts including Ariel Arbisser, Dr. Stephen Caldwell, Troy Dolendo and Jia-Ching Lai. Each group will showcase their original pieces for the audience and the judges will deliberate and decide who will be crowned the first-ever VoiceJam Champion with a chance to compete at VocalAsia in Shanghai, China.
Ticket prices range from $15 to $25; visit VoiceJam Competition to learn more.
Red Carpet Showcase
Saturday, April 11 at 7 pm
This red carpet celebration will highlight the winner from the previous night's competition with special performances by professional ensembles The House Jacks and Voco Novo.
Ticket prices range from $30 to $50; visit Red Carpet Showcase to learn more.
The Competitors
Mellow Divas – Berkely Preparatory School, Tampa, FL
DeltaCappella – Memphis, TN
Snowday – Gaithersburg, MD
The ILL Harmonic – University of Illinois
Above the Keys – University of Miami
Beltones at Belmont – Belmont University, Nashville, TN                                                 
Seventh Street Jazz – Yorba Linda, CA
Hibernotes – Missouri State University, Springfield, MO
VirtuOSO – Baylor University, Waco, TX
The Judges
Troy Dolendo began his musical career as a DJ in junior high school. Far before beatboxing or vocal percussion became popular, Troy was imitating the sounds coming from the stereo at every chance. He began his career at Walt Disney World in 2005 and still works at Disney as well as the Universal Corporation. He was a founding member of MOSAIC as well as The Edge Effect, who were finalists on America's Got Talent and won Boyz II Men's vocal group challenge. Dolendo has shared the stage with a variety of stars, including PRINCE, Stevie Wonder and Jennifer Lopez.
Ariel Arbisser is a versatile performer based in Ithica, NY. In addition to The Funx, her diverse lineup of projects include soul group The Jeff Love Band, female powerhouse ensemble Lady Jaeye, and experimental funk duo Frisky Business. Arbisser got her start with the Cornell Chodials with whom she became a nationally recognized soloist, and co-produced two of their award-winning albums. Using the Meisner technique that she studied at The Actors Workshop, she has developed the teaching module, "Sing It Like You Mean It" which she teaches at festivals and schools nationwide.
Jia Ching Lai is an assistant professor of the music department at Taiwan National University of the Arts and hosts the first a cappella radio show in Taiwan. Lai is the founder of the multi-award winning O-Kai Singers who are currently the record holder for most awards won by any vocal group in Taiwan with a total of 23 domestic and international awards.
Dr. Stephen Caldwell has received critical acclaim as a singer, conductor and composer alike, and he appears regularly in concert, recital, and stage performances throughout the country and abroad. As the Director of Choral Activities at the University of Arkansas, he conducts the Schola Cantoruma, Master Chorale and Women's Chorus. He often serves as a vocal and pedagogical consultant for choral programs at many public schools, has adjudicated choral festivals at all levels and has prepared choirs for many leading conductors including the Philadelphia Orchestra and the Delaware Symphony. Caldwell's original, award-winning compositions and arrangements have been performed throughout the world by various school and community ensembles including the Taipei Male Choir in Taiwan, and Temple University in Philadelphia.
Host & Special Guests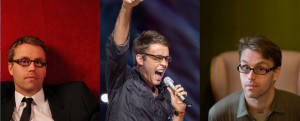 Deke Sharon has been heralded as "the father of contemporary a cappella" and is responsible for the current sound of modern a cappella, having created the dense vocal-instrumental sound in college, subsequently spreading it around the world. In addition to his work with The House Jacks, Deke produces NBC's "The Sing-Off," which had the highest ratings of any new, unscripted television show in the US in 2009, and was the third highest rated show on NBC in 2010. Deke also served as music director for Universal's "Pitch Perfect" (2012) starring Anna Kendrick, and is contemporary cappella's most prolific arranger, having arranged over 2,000 songs, many of which are printed worldwide with Hal Leonard/Contemporary A Cappella Publishing. He has produced dozens of award winning a cappella albums and created a cappella groups for Disneyland and Disney World, and frequently tours the world teaching a variety of topics to students and professional singers.
The House Jacks includes members Deke Sharon, Austin Willacy, Elliott Robinson, John Pointer and Nick Girard. They have inspired live audiences across North America, South America, Europe and Asia with over 3,000 performances. They feature amazing instrument imitations (drums, flute, guitar, bass, trumpet, muted trumpet, synthesizers) that are woven into their songs to create a full and varied experience for audiences of all ages.
Voco Novo hails from Taiwan and includes five singers who came together and started Voco Novo A Cappella Group with goals to create a new sound and collaborate with different art forms. Voco Novo not only tours around Taiwan, but also has performed abroad, including Korea, Hong Kong, China, Austria, Germany, and Sweden. With only a few years of experience, Voco Novo has already won many awards including "Best Solo" award at the 2010 Seoul International A Cappella Competition, "Gold Diploma" and "Han-Guang Best Performance" and "Han-Guang Best Arrangement" at the 2011 Taiwan International A Cappella Festival, "Gold Diploma" in Pop and Jazz categories and the "Best Arrangement" award at the vokal.total.2012 International A Cappella Competition in Graz, Austria.
VoiceJam is supported by NBCUniversal, Fayetteville Advertising and Promotion Commission, Cheyenne Products, Vocal Asia and CJCHT art & culture. VoiceJam registration, submission and festival components can be found at www.waltonartscenter.org/voicejam-a-cappella-festival.
Walton Arts Center is Arkansas's premier center for the performing arts and entertainment. Each year more than 190,000 people from Arkansas, Missouri, Kansas and Oklahoma and beyond attend over 275 public events at Walton Arts Center, including performances, rehearsals, community gatherings, receptions, graduations and more.  Approximately 42,000 students and teachers from 30 school districts participate annually in arts learning programs at Walton Arts Center, and almost 300 volunteers donate more than 22,000 hours of time each year to its operations. Walton Arts Center presents entertainers and artists from around the world including Broadway musicals, renowned dance companies, international artists, up-and-coming jazz musicians and more. As a non-profit organization, Walton Arts Center enjoys the generous support of public sector funding, corporate sponsorship and private donors, allowing audience members to pay on average only 50% of the cost of programs offered. To learn more about Walton Arts Center, visit www.waltonartscenter.org.