Walk on the wild side with Tamara Walkingstick: Edible trees and plants workshop at Hobbs State Park
Long before modern medicine and grocery store chains, settlers of the area used wild plants for food and medicine. Your chance to learn about those wild edibles is from 10 a.m. to 2 p.m. on Saturday, May 7 at Hobbs State Park Visitor Center in Rogers.
Dr. Tamara Walkingstick will conduct the Wild Edibles Workshop. She has worked for the University of Arkansas, Division of Agriculture, Co-operative Extension Service as an Associate Professor of Extension Forestry since 1996.  Walkingstick serves on several boards including the Arkansas American Indian Center, Arkansas Women In Agriculture, the National Network of Forest Practitioners and is a member of the Cherokee Nation of Oklahoma.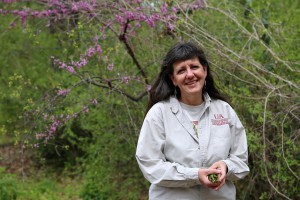 During the comprehensive four-hour workshop, you will not only learn to identify some edible species of Arkansas native and non-native vegetation, you will also have the opportunity to sample tasty dishes including acorn scones. The presentation covers concepts of conservation, history, culture, and plant identification. Thirty pages of wild edible recipes are included as well.
The cost of the workshop is $15 per person plus tax. Class size is limited to 25 and participants must pre-register. For more information and to register, call:  479-789-5000. Hobbs is located on Ark. 12 just east of the Ark. 12/War Eagle Road intersection.