Walton Arts Center grand reopening
The Walton Arts Center in Fayetteville celebrates the grand reopening of its newly renovated facility this Saturday, Nov. 19.
Events begin at 9:50 am with remarks and a ribbon cutting ceremony on Tyson Plaza at the corner of West Avenue and Dickson Street. The grand reopening celebration kicks off WAC's 25th anniversary season.
Activities include a "Family Open House: Behind the Curtain" event from 10 a.m. to 1 p.m. The $23 million renovated facility will be open for the community to explore during the morning event, the first public event post-renovation. Light snacks and drinks will be available throughout the event as well as a number of family-friendly performances and interactive activities — giving patrons a behind-the-scenes look at the magic that happens in the theater.
Live performances by Fayetteville Old Time Music, Shannon Wurst and Mucca Pazza will greet patrons inside the new atrium lobby. Trike Theatre will present Grandma's Story Quilt in McBride Studio and patrons will be able to observe and participate in the children's cast rehearsal for Canada's Royal Winnipeg Ballet's The Nutcracker in Starr Theater.
Special photo opportunities will be available onstage in Baum Walker Hall and backstage activities, including a large paint-by-numbers stage set, kid-friendly stage makeup and hair demos as well as hands-on theatrical equipment demonstrations will help attendees go "Behind the Curtain!"
Community Creative Center will host an interactive arts activity in the Pace Balcony Lobby with take-away keepsakes. Adults can escape to the Sudduth Garden Room for a coffee bar and quiet lounge area.
Joy Pratt Markham Gallery's opening exhibition features Ted Lott's Migration Series alongside printed and sewn installations by Kay Healy, which take inspiration from interviews with Walton Arts Center volunteers and donors, emphasizing the importance of memory and community.
Other family-friendly activities will take place in the Bradberry Rose Garden and the new catering kitchen.
To top things off, a "Wow-Me" guided tour will take people from the orchestra pit up to the catwalk above Baum Walker Hall stage where participants will get to explore the theater from a vantage point few people ever get the chance to see. These will take place every 30 minutes. Patrons who participate in the guided tour must be 14 years or older and must wear closed-toed, low-heeled shoes. Space for the "Wow-Me" tours is limited and will be first come, first served.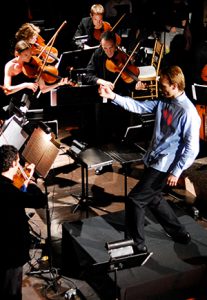 The party continues with an "Evening Celebration: Encore" from 6 p.m. to 10 p.m. with music and performances from many diverse genres. Start on Tyson Plaza at 5:45 p.m. for a special lighting ceremony unveiling the new building before doors open.
The evening event will feature a performance by the Symphony of Northwest Arkansas (SoNA) along with special performances by Memphis a cappella group DeltaCappella and Chicago's Mucca Pazza. Attendees can pop into the jazz lounge in McBride Studio to hear Champian Fulton, who Nate Chinen of The New York Times lauded as "a charming young steward of the mainstream jazz tradition" or dance away the night with The Silvershakers and the Fayetteville Jazz Collective in Starr Theater.
Suggested for audiences 14 years of age or older, the evening event is geared toward an adult audience with drinks and hors d'oeuvres offered to attendees.
All events are free and open to the public. For more information about the Grand Reopening Celebration events, visit waltonartscenter.org/grand-reopening.