War Eagle Mill Gluten-Free Flour
May is Celiac Disease Awareness Month. What does that have to do with Arkansas tourism? Well, if you have celiac disease or are gluten intolerant, take a visit to War Eagle Mill, just a few miles outside of Rogers, for a little fun while also picking up some gluten free products.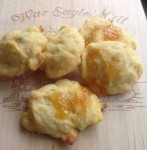 War Eagle Mill offers a Gluten Free All Purpose Flour that replaces wheat cup-for-cup in every recipe. Also, it's made in a dedicated gluten free facility.
Here's a War Eagle Mill recipe for gluten-free Apricot Lemon Drop Cookies that everyone can enjoy.
"A zesty lemon cookie with a twist of apricot jam. So easy to make and it's gluten free!"
Preheat oven to 350 degrees.
Cream butter and sugar until smooth.
Add egg, vanilla, lemon zest and lemon juice. Mix well.
In a separate large mixing bowl, whisk together flour, baking powder and salt.
Slowly mix in the flour mixture to the butter mixture until a doughy consistency.
Fold in apricot jam.
Place spoonfuls of dough onto a lined or greased cookie sheet.
Top dough with a dab of apricot jam.
Bake for 10-12 minutes or until slightly golden.