Warm Up With History: Arkansas Historic Wine Museum
It's cold outside…so why not visit one of The Natural State's many great museums this winter? During January, our blogs will give you suggestions on museums throughout Arkansas that offer something for the entire family…a great chance to Warm Up with History!
The Arkansas Historic Wine Museum near Paris tells the story of wine and its relationship to the life of the people of Arkansas. This rich history is your state's history, whether you were born in Arkansas, or you have moved to Arkansas. This family museum educates persons about the ethnic, social, and art of wine and people who made wine.  It is a lesson in history, and Arkansas has a long one in regard to wine production.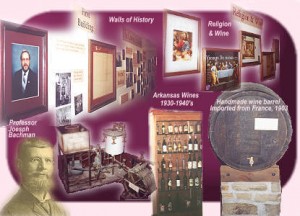 The first settlers of the state used wild fruit and berries to produce wine.  Most of them brought this knowledge with them from their native country.  Wine to these people was a food to be enjoyed with a meal or in a social environment. In 1938 and 1939 there were more than 800 permits issued by the state for the manufacture of wine for home use and/or for sale. These permits were issued in many counties that are now dry. The first permit was issued to a person in Magazine, Arkansas in the southern part of Logan County.
The museum is filled with large casks, tanks, filtering, bottling equipment and old presses as well as exhibits about how wine is made, why wine was and is important, and wine regions of Arkansas. It is the only wine museum in the nation dedicated to the wine history of a state and preservation of the historic information and artifacts of the wine making tradition in Arkansas.
The museum also has a satellite location in Hot Springs. The main museum is located three miles west of Paris on Ark. 22 West at Cowie Wine Cellars. The museum is always interested in receiving information or artifacts relating to the production of wine and the people who practiced this art. Contact the Arkansas Historic Wine Museum if you have any information on this subject at 479-963-3990 or email [email protected].
While you're visiting the wine museum, make plans to tour other wineries in the area as well. Several wineries offer free tours, wine tastings and special events.