Warm Up with History: The Helena Museum of Phillips County
httpv://www.youtube.com/watch?v=RNsykQkFohY
It's cold outside…so why not visit one of The Natural State's many great museums this winter? During January, our blogs will give you suggestions on museums throughout Arkansas that offer something for the entire family…a great chance to Warm Up with History!
If you love history, the Helena Museum of Phillips County in Helena-West Helena is a must-see in the Arkansas Delta.
The museum began as a part of the Helena Library, which began as a reading room in 1874. The library continued to grow after the formation of a library association in 1878, and eventually a home for the library was built in 1891. Soon after, the library began accepting special artifacts relating to the history of Helena and Phillips County. By the late 1920s, it became apparent that the museum needed a dedicated space. In 1930, the museum annex was completed, adjacent to the library.
The Helena Museum of Phillips County is now housed in that annex space, as well as the original library structure.
The museum houses a remarkable array of artifacts, ranging from paintings to letters to musical instruments to Native American artifacts to photographs. The Helena Museum of Phillips County is the only museum in Arkansas to house a portion of the collection of famed inventor Thomas Edison. The museum also has a vast number of personal artifacts of the seven Confederate generals from Phillips County, including Patrick Cleburne and Thomas Hindman. Visitors can also see a rare autographed photograph of Helen Keller, as well as signed books from famed authors of the 19th and 20th centuries, including Mark Twain.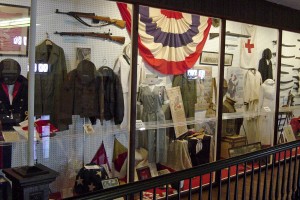 The Helena Museum of Phillips County is located at 623 Pecan St. in historic downtown Helena. You can check out the  Facebook page here and visit the museum's website at http://www.helenamuseum.com/. Make sure and check out the video above as we interview director Shane Williams about the history of the museum, as well as a little insight into the "ghostly resident" that allegedly calls the building home.