Warm Up with History: The Randolph County Heritage Museum
It's cold outside…so why not visit one of The Natural State's many great museums this winter? During January, our blogs will give you suggestions on museums throughout Arkansas that offer something for the entire family…a great chance to Warm Up with History!
The Randolph County Heritage Museum, located on the Historic Court Square in Pocahontas, tells the story of the Randolph County area from its earliest history to the present. And what a history it is! Randolph County was home to a series of impressive "firsts" in Arkansas, including the first post office, the first mail route, the first telegraph line, the first courthouse and the first land office.
The museum offers permanent and temporary exhibits, lectures and special programs, all geared toward telling the rich and varied past of Randolph County. Currently visitors can see an exhibit focusing on Randolph County during the Civil War.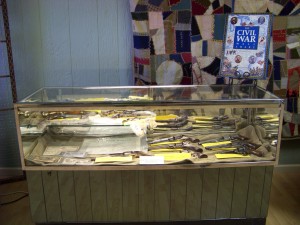 The museum contains extensive exhibits on the button and pearling industry and an entire room dedicated to the history of the Black and Current Rivers. Don't miss the exhibit on the Wonder Horse, created and patented by William Baltz of Pocahontas.
For more information, visit the museum's website at www.randolphcomuseum.org.