Watch for Eagles at DeGray!
Wintering eagles flock to the Ouachitas and Ozarks in the winter for favorable habitats. A great place to try and see them is during an Eagle Tour at DeGray Lake Resort State Park in Bismarck. During the month of January, guided eagle-watching tours take place at the park January 2, 3, 9, 10, 16, 17, 30 and 31. These tours, which take place from 2 to 3:30 p.m., are led by a park interpreter via a barge on DeGray Lake. Other birds to be on the lookout for on the lake include, herons, loons and osprey. Reservations are needed and admission is $9 for adults, $5 for kids ages 6-12, and those under 6 years old can tour for free. Call 501- 865-5850 for more details.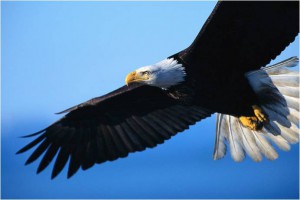 Also of note,  January 23-25 are the dates of one of the park's most popular events: Eagles Et Cetera! Eagle tours will be offered in abundance over this festival weekend to maximize your chances of spotting one of these creatures on the lake. The weekend also hosts guest speakers and live animal presentations. For more information call 501- 865-5810. DeGray Lake Resort State Park is located at 2027 State Park Entrance Road.