Weinkeller Restaurant celebrates 50 years
With roots in the 1800s, one of the oldest wineries in The Natural State is Wiederkehr Wine Cellars, located in the Arkansas River Valley.
Atop St. Mary's Mountain, the Wiederkehr family tradition of winemaking began in 1880 when Johann Andreas Wiederkehr and his family emigrated from Switzerland to America. The original hand-dug wine cellar, now the site of the Weinkeller Restaurant featuring Swiss and European cuisine, is listed on the National Register of Historic Places and celebrated 50 years in 2017.
Walking into the Weinkeller feels like stepping inside a cozy hobbit house built into the side of the ground. Soft, low lights and the glow of candles spill onto chunky wood tables and stone walls. Waitresses clad in Swiss attire and a menu punctuated with dishes such as schnitzel and strudel make diners feel like they've traveled out of time and place.
The menu offers dishes from the German, French, and Italian regions of Switzerland, as well as specialties from central Europe and America. From Swiss Cheese Fondue, to Italian pasta dishes, to Matterhorn Schnitzel, to chicken, lobster, fish, and steaks—there's something for everyone to enjoy. Dessert is a must – apple strudel, Black Forest cherry cake, caramel custard, ice cream, and cheesecake, just to name a few. A full selection of soft drinks, domestic and imported beers, mixed drinks, and award-winning Wiederkehr wines are available seven days a week. Wiederkehr serves an array of award-winning wines, from classic French varieties and dessert wines to sparkling wines and alcohol-free wines.
Hours for the Weinkeller Restaurant are: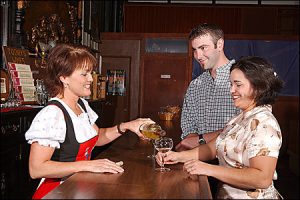 Monday—Saturday
•  Lunch from 11 am to 3 pm
•  Dinner from 5 pm to 9 pm
Sunday
•  All day from 11 am to 9 pm
Reservations are strongly recommended, especially for dinner and groups of 20 and larger. Call 479-468-3551 or 1-800-622-WINE for reservations or more information.
The winery and restaurant are open daily (except major holidays). Tours of the winery are offered every 45 minutes.
Wiederkehr's Vintage 1880 Wine Shoppe sells wine, gourmet items, and wine-related gifts from corkscrews and wine stoppers to wine glasses and T-shirts. Wiederkehr also accommodates groups in its banquet hall and travelers in its RV park. Its annual Wiederkehr Village Weinfest takes place in mid-September.
Wiederkehr Village is located on Interstate 40 at Exit 41. Follow the signs to Wiederkehr Wine Cellars. Wiederkehr Village Wine & Spirits, a tourist information center, liquor store, and tasting room is located at Exit 41.
For more information: www.WiederkehrWines.com.