What's on your "Must Visit in Arkansas" Bucket List for 2013?
As much as I have traveled my beloved state throughout the years, there are still places and things in The Natural State that I have yet to see.
Here are a few I hope to mark off my bucket list for the upcoming year.  What are yours?  I invite you to share with our readers. Who knows?  We may all discover destinations and attractions we've never heard of, thanks to suggestions by  someone else.
1)      The renovated and much improved Mather Lodge at Petit Jean State Park.  I have to admit this park is my favorite because of its history, beauty and attractions. Arkansas State Parks maintained the historic CCC structure while adding much needed space for more to enjoy.
2)      Bass Reeves Statue in Fort Smith.  This man has fascinated me for years. If you've never heard of his legendary exploits and his role in Fort Smith and American history, make plans to visit the Fort Smith National Historic Site.  In addition to exhibits, there is a wonderful video depicting his life. After that, head down to Pendergraft Park and see the awesome stature honoring this great American.  Come find out for yourself why Fort Smith was named the Top True Western Town for 2013 by True West magazine.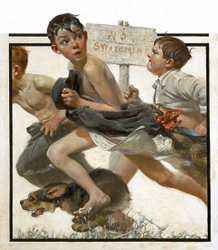 3)      American Chronicles: The Art of Norman Rockwell Exhibition. I have been a huge Norman Rockwell fan all my life.  No one manages to capture the essence of American life and historical events that took place better than he does.  This traveling exhibit  from the Norman Rockwell Museum in Stockbridge, Massachusetts, will be March 9-May 28 at Crystal Bridges Museum of American Art in Bentonville.  Just like the following exhibition, this is a chance of a lifetime.
4)      Rembrandt, Van Dyck, Gainsborough: The Treasures of Kenwood House, London Exhibit.  This Arkansas Arts Center event is June 7-Sept. 8 and allows us the opportunity to see 48 Dutch masterworks, many of which have never been on view outside Kenwood House, London.  Don't miss this very rare occasion. The AAC in Little Rock is one of only four museums in the U.S. to host this exhibition.
5)      Delta Resort, Tillar.  I can hardly wait until this project is completed.  What has already been done is incredible but it's nothing compared to what the finished project is going to offer. It's tentatively scheduled to open this spring.
6)      Johnny Cash Boyhood Home and Dyess Colony Restoration.  Like many Arkansans and Johnny Cash fans all over the world, I have been eagerly waiting for this project to take place.  Right now,  officials hope to open both in the fall.  The 1935 home Cash grew up in will be restored to what it was like when he and his family lived there. The Administration Building for Dyess, one of the nation's agricultural resettlement colonies under the New Deal, will have exhibits and how it impacted Cash and his music.
Photo Credits:
Rembrandt van Rijn
Portrait of the Artist, ca. 1665
Oil on canvas
45 3/4 x 38 1/4 in.
Kenwood House, English Heritage, England (88028836)
Photo courtesy American Federation of Arts
"No Swimming," Norman Rockwell. 1921. Oil on canvas, 25 1/2″ x 22 1/4″ Cover illustration for "The Saturday Evening Post," June 4, 1921
©1921 SEPS: Curtis Publishing, Indianapolis, IN
From the permanent collection of Norman Rockwell Museum