Wheel A' Mena Bicycle Tour!
The Wheel A' Mena Bicycle Tour is an epic ride to take on for those looking for a challenge.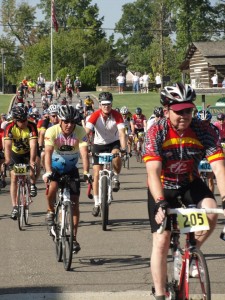 ​
The tour is staged out of Mena, which is at the foothills of Rich Mountain. At 2,681 feet, it's the second tallest mountain in the state. Various tour distances (70, 50, and 30 miles) are offered. The tour provides some of the best scenic views in Arkansas with much of the ride being high atop the Ouachita Mountains on the Talimena Scenic Drive. The ride also proves to be quite a challenge as there are multiple steep climbs. There will be multiple rest stops and feed stations available on course, and both routes take riders through Queen Wilhelmina State Park. 
Mena is well known for the surrounding trails for mountain biking like the local Earthquake Ridge Trail, the Womble Trail, and the Ouachita Trail. The community was founded in 1896 as a railroad town at the eastern foot of Rich Mountain. It is the eastern terminus of the Talimena Scenic Drive, a 54-mile byway that travels the crest of Rich and Winding Stair mountains between Mena and Talihina, Oklahoma. Thirteen miles northwest of town is Queen Wilhelmina State Park.
The byway and park provide expansive views of the Ouachita Mountains. The Mena Depot Center in town greets visitors with history exhibits and railroad memorabilia. In Janssen Park you'll find a 1851 log cabin still on its original site. If you might be looking for a side trip after the ride, east of Mena in the Pine Ridge community there's the Lum and Abner Jot 'Em Down Store and Museum. It houses memorabilia related to the popular 1940s radio comedy team of Lum and Abner. The late Norris Goff of Mena portrayed Abner.