Why Arkansas Wants Motorcycle Tourism
The State of Arkansas has made a deliberate decision to attract bikers as a major tourism market. Part of this effort started at the local level at many different communities around the state like Eureka Springs, Harrison, Hot Springs, Little Rock, Mountain View and of course Fayetteville producing a brochure to hand out to visiting bikers on routes around their communities. The national impact of Bikes, Blues and BBQ in Fayetteville has placed attention on this fast growing tourism market. Arkansas is naturally built for bikers and we have become a destination for thousands of bikers that are searching for exciting riding, great vistas, new experience, wonderful cuisine, and biker friendly communities. Arkansas is ready to deliver on every level to create the ultimate biker road trip. I ride a lot around the state and always just expect to experience this kind of treatment and really did not realize how special this is for the biker community. As I visit with bikers from all over the nation, the constant comment is always how impressed they are with our willingness to embrace motorcycle tourism and treat each biker like the special visitor that they have been waiting for all day.
Arkansas Department of Parks and Tourism decided to take this effort to a new level and start promoting Arkansas as a motorcycle destination at the Progressive International Motorcycle Show in Dallas in 2012 and 2013. Of course I was excited to go so see the latest bikes and biker apparel and equipment. What I was not prepared for was the number of bikers that absolutely love riding in Arkansas. I would hear comments like: "I love your state and will be back to ride again"; "I have heard how beautiful Arkansas is and plan to go"; "I have been to Arkansas many times and plan to go back"; and most often I heard – "You all really like bikers and we appreciate it". I believe out of all the thousands of visitors that come by our booth, only one or two had a negative comment, but those were due to having an accident in Arkansas or having mechanical issues. We are now headed to the Chicago show that has about 65,000 visitors as compared to the 25,000 in Dallas. After returning from the Chicago show, we found the same response to riding Arkansas that we did in Dallas. The amazing thing about Chicago is that Arkansas is over 550 miles south of Chicago and they all want to ride Arkansas. Bikers were overwhelmingly enthusiastic about us being there to promote the riding in Arkansas and many were making plans to make that their summer motorcycle get a away. This many bikers can't be wrong about riding Arkansas, I believe we have the goods to produce a great motorcycling vacation and become the destination for bikers from around the nation.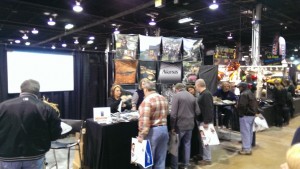 As a result of all this attention on motorcycle tourism, Arkansas Department of Parks and Tourism has decided to publish the first ever Arkansas Motorcycling Guide. This free publication will be available in March all across the state at Welcome Centers, motorcycle shops, dealerships, Chamber offices, and state parks. It will feature 21 suggested routes that highlight the uniqueness of Arkansas. It is designed to attract more motorcycle tourism to each corner of the state and in all four directions. As I have worked with the team to develop this guide, it is very obvious that Arkansas has more than its fair share of unique places to visit on two wheels. The entire state seems to understand the significance of producing this guide. When you have buy in at all levels, I suspect this guide will be the one item that brings Arkansas to a new level in attracting the motorcycle market. I am not aware of another state producing a guide like this and I am proud to see Arkansas really thinking outside the proverbial box to provide a great service to our guest. I look forward to attracting new riders to discover Arkansas.
In addition to the published Arkansas Motorcycle Guide, a new web site is being launched to compliment the guide through www.arkansas.com that has a PDF version of the guide that can be downloaded, an extensive listing of bike shops, dealerships, and other bike related shopping available to our guest, and a place to post pictures and comments about your experience riding in Arkansas. We want to make it as interactive as possible.
So why are we making such an effort to attract bikers? The fact that God has created a large portion of Arkansas to meet the needs of a biker, that include cruisers, duo sport, and sport riders; the fact that motorcycles are being sold at record numbers1 due to so many of us Baby Boomers retiring and fulfilling our dreams of riding; the obvious economic impact on tourism in Arkansas, and that most of the border states to Arkansas have more registered bikes than Arkansas2 are all reasons to start this process. The other reason is Arkansans are very hospitable people that like to share our beauty, culture, great food , wonderful destinations, historic cities and sites and natural resources with our guest. This is the primary reason that I believe bikers are welcomed with open arms. To celebrate and give you more reasons to visit, communities have created events like Bikes, Blues and BBQ in Fayetteville; Mountains, Music and Motorcycles in Mountain View; Wild Hog Music Festival and Motorcycle Rally in Helena; The Hot Springs Motorcycle Rally in Hot Springs; and the Bugs, Bands & Bikes in El Dorado to just name a few events.
So make your plans to come visit us in Arkansas, we have the biking adventure you are looking for and we are anxious to make you feel right at home. Order your Motorcycle Riding Guide by visiting Arkansas.com and requesting it or downloading it. See you down the road.
1.http://www.rita.dot.gov/bts/sites/rita.dot.gov.bts/files/publications/special_reports_and_issue_briefs/special_report/2009_05_14/html/entire.html
2. http://www.statista.com/statistics/191002/number-of-registered-motorcycles-in-the-us-by-state/