Wild Wilderness Drive-Through Safari is Full Day of Fun
Wild Wilderness Drive-Through Safari in Gentry makes for the perfect day trip. The 400-acre safari is home to a variety of exotic animals living in the natural environment of a beautiful Arkansas landscape with several large ponds.
My family, which includes two boys now ages 9 and 13, have been to the safari many times over the years. We went again during Spring Break and had just as much fun there as we always have. It's definitely a place to go back to again and again over time.
One section of the safari is a walk through area, where you can see kangaroo, goats, turtles, monkeys, giraffes, and more. We loved the monkeys, in particular, who were rambunctious and playful. You can also take pony and camel rides.
The drive-through portion is about four miles long. It took us about one hour and 15 minutes to make it all the way through. Even if there are a lot of cars ahead or behind you, like there was during Spring Break, it doesn't feel crowded. Everyone goes at their own pace. If you want to stop and look at something – lions, zebras, prairie dogs – you pull to the right and people go around you if they want. Everybody is going slow to look at all the animals and take photos. The ostriches were our favorites on the drive through. They come right up to your window and are beautiful and scary all at the same time. We kept our windows up, of course.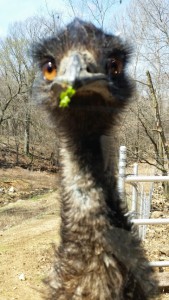 We actually drove through the park first. We took a picnic lunch and enjoyed that on one of the picnic tables before walking through the petting area. They do have concessions there as well, plus a gift shop. It's a full day of fun.