The Witching Hour arrives in Arkansas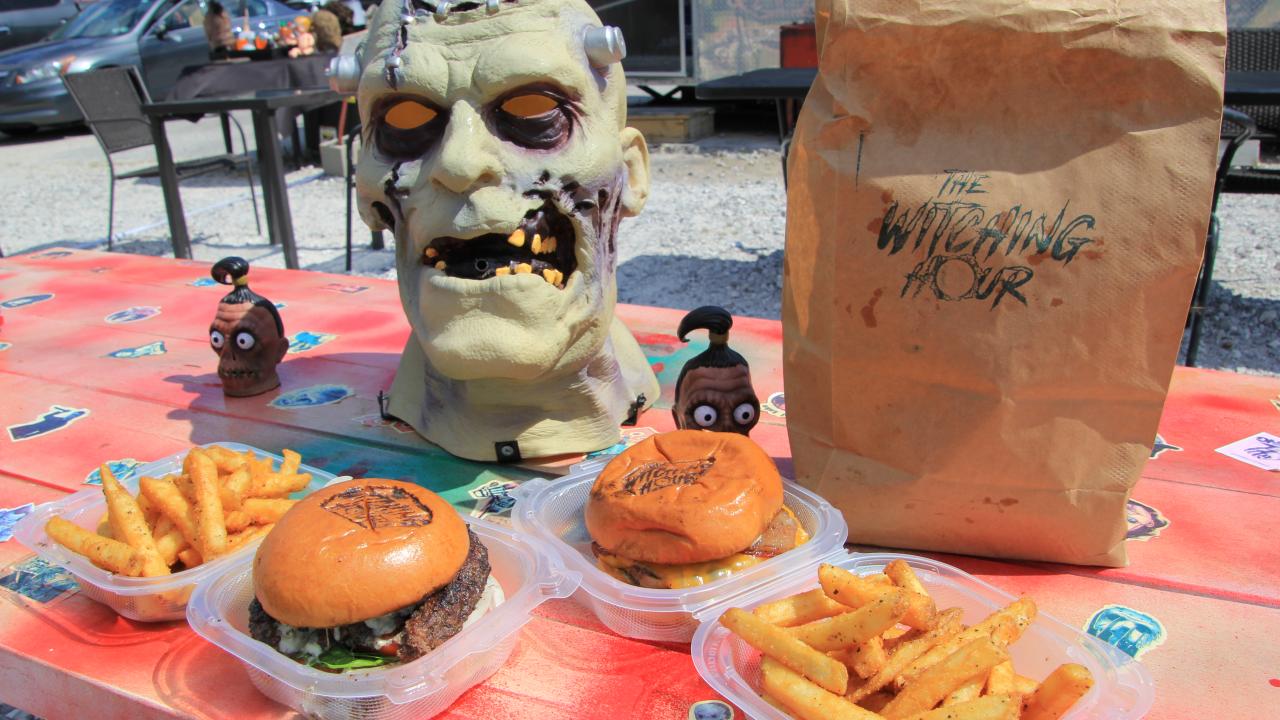 The Witching Hour has arrived and your fear should be great. Your fear of missing out on the frighteningly fabulous burgers served up by this food truck in Bentonville, that is.
The Witching Hour is a new horror-themed food truck with excellent graveyard grub that includes burgers, fries, onion rings, fried mushrooms, mac and cheese and desserts to die for. Odd, you might say? Surprising? Yes it is, and in all the best ways.
Not only can you have fun with all the horror references and puns, you can also eat darn good food.
"Our main thing is awesome burgers," Zac Slusher, food truck co-owner, said. These "Killer Burgers" come in quarter or half pound sizes, are juicy and flavorful, and made with 100 percent angus beef. The names and descriptions add to the experience. For example, the "Santanico Pandemonium" is "a burger you'll crave from dusk till dawn. A burger topped with sautéed onions, bell peppers, jalapeños and covered in unholy guacamole and queso."
"The Candyman" description reads: "If you say Candyman in the mirror 5 times or just once to us, you'll get a juicy burger topped with candied bacon, cheddar, sautéed onions and hickory honey BBQ sauce." Playing off movies from Ghostbusters to Chucky, the list of burgers, sides and desserts is full of movie reference puns. Definitely don't miss the Redrum Cake that comes packed with flavor in the shape of a skull.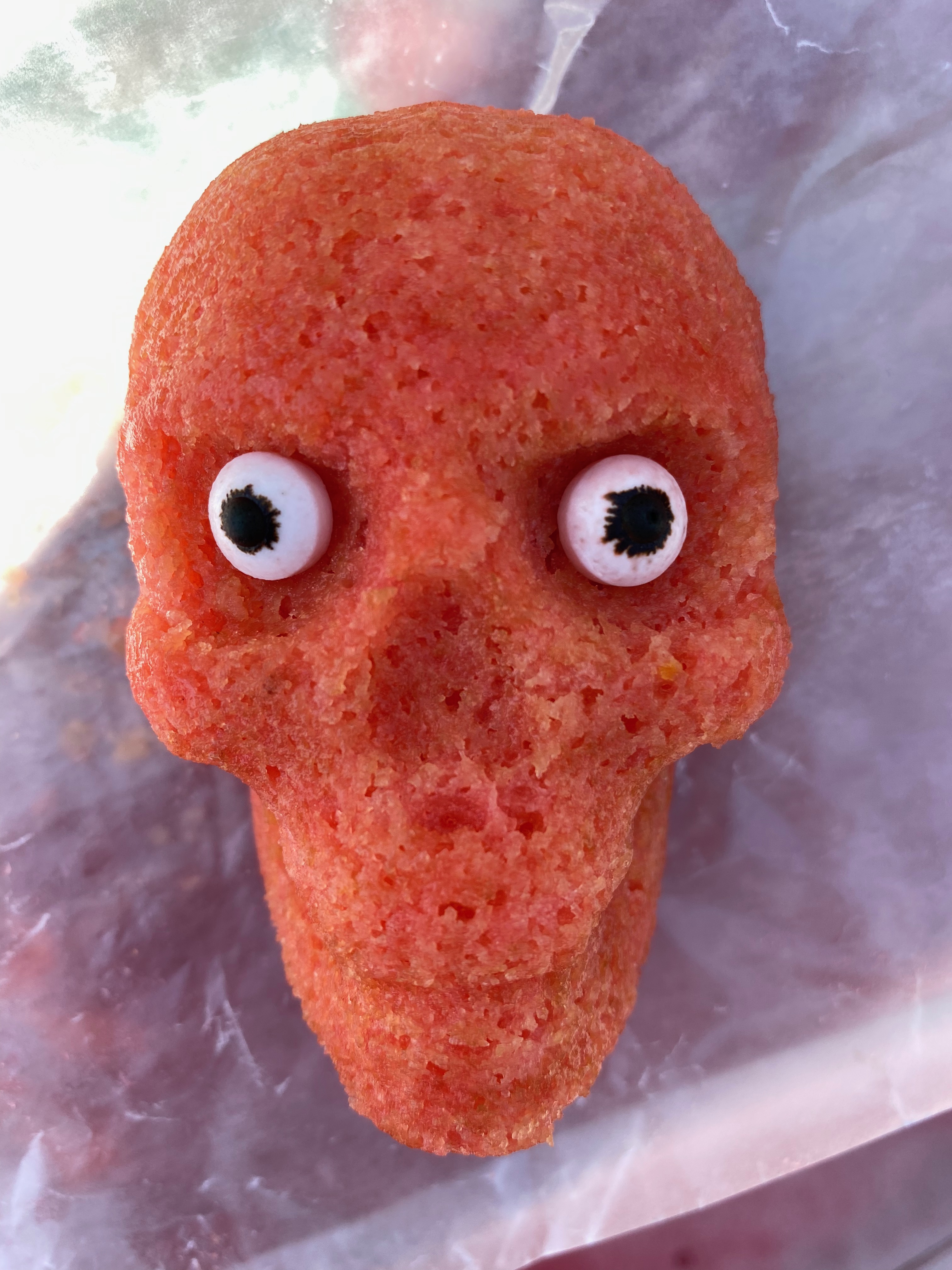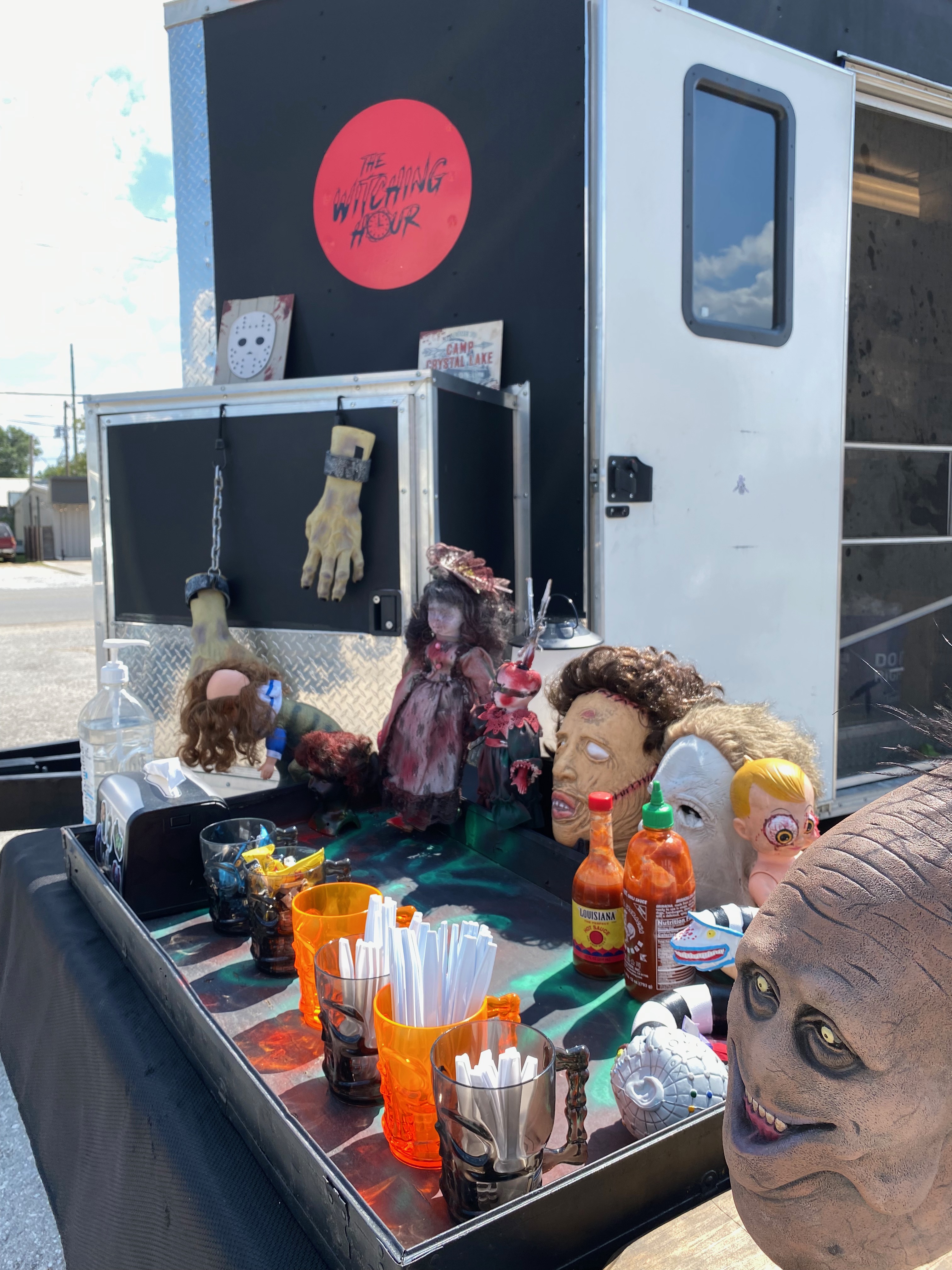 While just reading the menu is fun, so is the decor. "I'm having a great time designing and putting up decorations. At the front window there's a bunch of horror character action figures and a poster from Jaws." There are also creepy dolls, shrunken heads and monster parts all over the grounds from where you get your condiments to the picnic table you choose. "It's just going to keep growing and growing," Slusher said.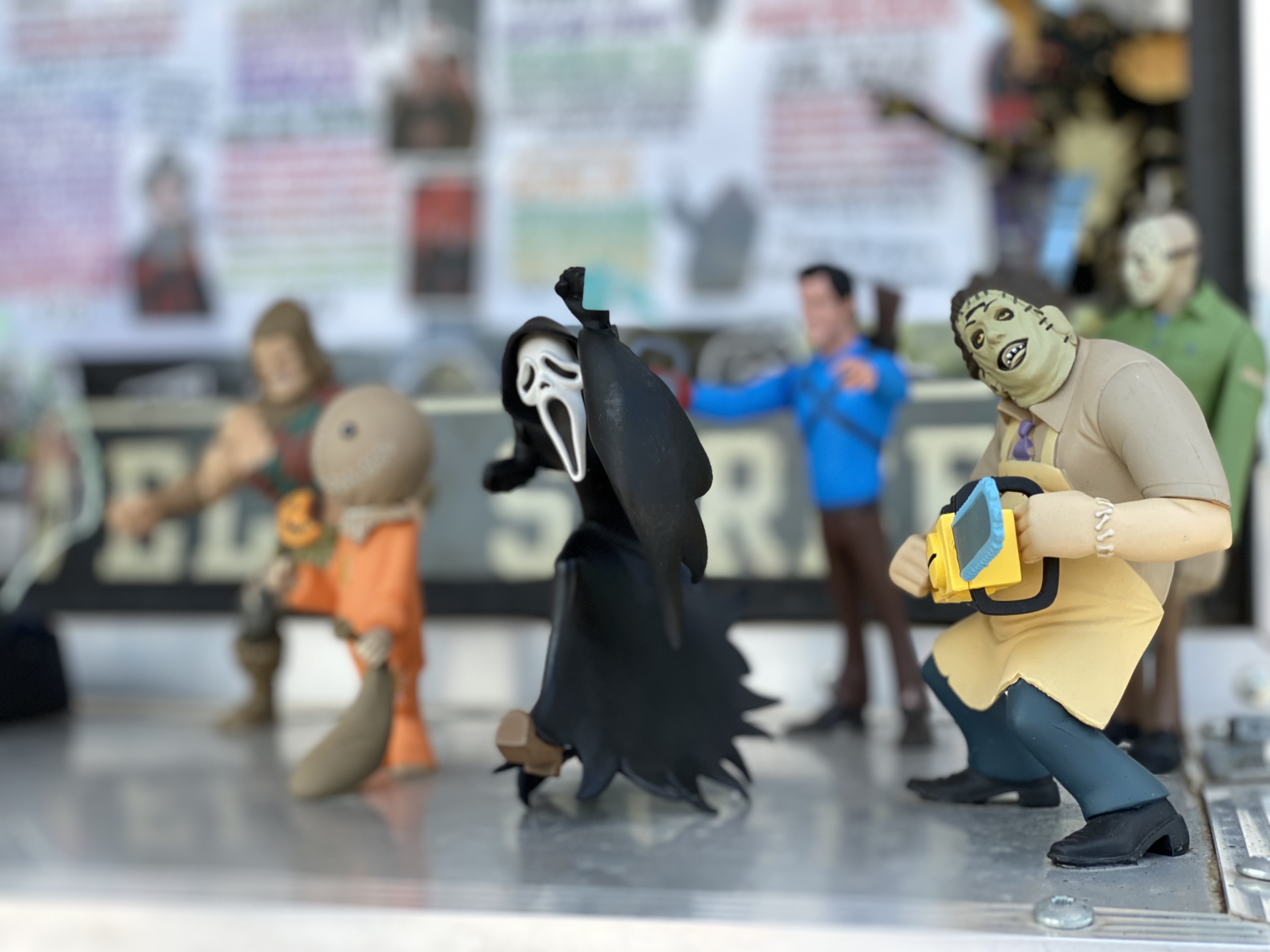 Slusher opened The Witching Hour with his friend, Tory Garcia.  "I've worked in restaurants here and there throughout my years and Tory has been general manager at a couple of places," Slusher explained. "I started staying home more during the pandemic and started messing around with recipes."
"I was just looking to start up a restaurant of some sort," Slusher said. He asked Garcia if he wanted to do it together. Slusher suggested a food truck. Garcia suggested a horror food truck.
"And I'm the big horror movie fan," Slusher said. "I've been a horror movie fan ever since I can remember, even as a little kid. And burgers have always been my favorite food."
They ran with Garcia's idea and opened The Witching Hour on the corner of 8th Street and A Street close to downtown Bentonville on July 29. Their hours are 11 a.m. to 2 p.m. and 5 p.m. to 9 p.m. Tuesday through Saturday. 
They also show horror movies on an outdoor screen, usually on Friday nights. Bring a lawn chair, order dinner, and enjoy the show.
"So far we have a lot of happy excited people," Slusher said. "It makes me happy to see a lot of people genuinely happy, walking around the truck taking a lot of pictures and stuff. We can tell by the way customers talk about it that we're doing something good."
Slusher would like to have a brick and mortar restaurant in the future. "The servers could be zombies. We could have movie nights and a haunted house. Another goal for that is to have one side family friendly and one more adult oriented." Happy Hour would, of course, be called "The Quenching Hour."
Keep up with news, specials and movie information by following the food truck on social media. The infotainment factor of The Witching Hour on Instagram is slasher style comedy. Slusher was a standup comedian for a decade, so he brings that to the table on social media. And if you happen to bike or walk by the food truck, don't be surprised if he screams at you like a zombie.
"We just want it to be a fun atmosphere while you're eating good food," Slusher said.