Wolf Pen Gap ATV Trails in Mena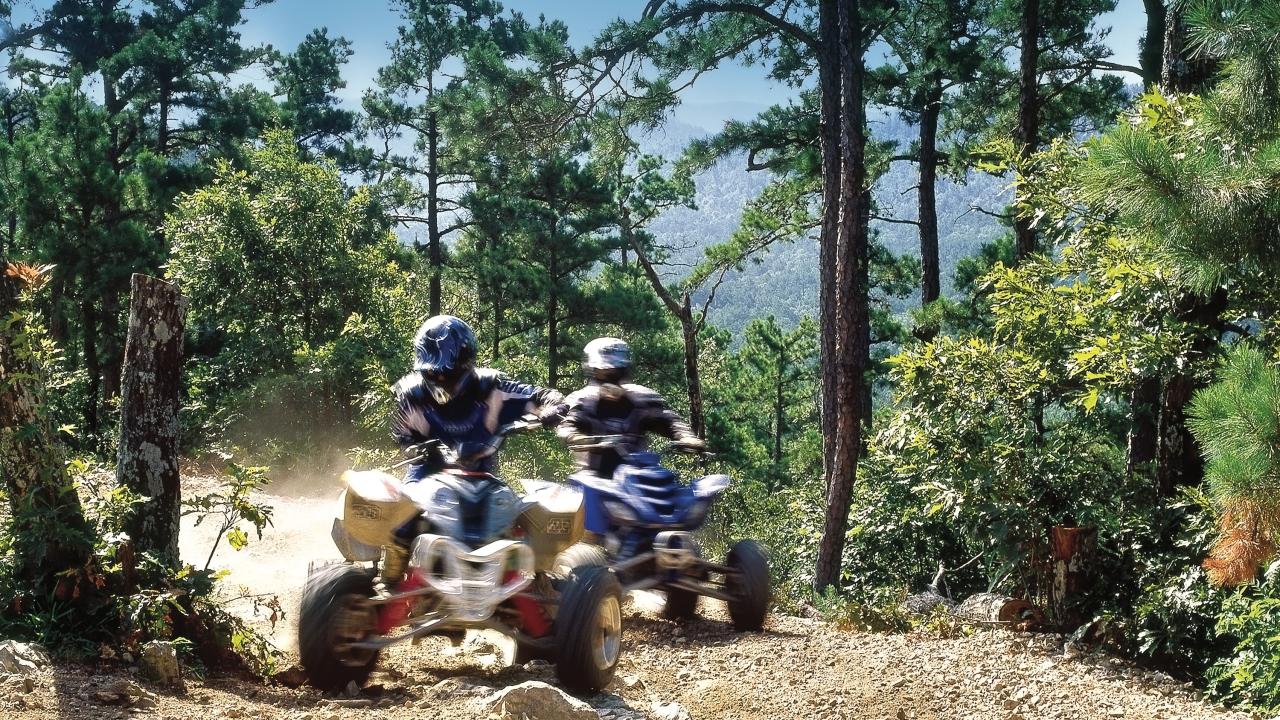 Among the many prime ATV riding destinations in Arkansas is one of the most popular in the nation, the Wolf Pen Gap ATV Trails in Mena.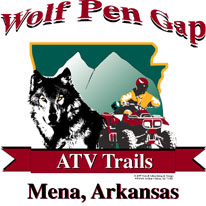 Wolf Pen Gap was the first trail system built specifically for four wheelers in the Ouachita National Forest. The routes were created by the U.S. Forest Service in the 1980s from old logging roads.
There are four trailheads to access the routes and currently around 35 miles of marked and looped trails are open there either year-round or seasonally. An aim for the next few years is for the system to eventually have around 50 miles of trails.
According to Pam Ferguson of the Ouachita ATV Club, what makes riding there stand out is the diversity of the terrain. "The trails have a little bit of everything in terms of difficulty levels," she said. "It's got challenging terrain but also easy trails for families."
Ferguson said ATV ( all-terrain vehicle) riding has really become a family activity with the invention of side by sides ( also called UTVs), off-road vehicles (ORVs) equipped with four wheel drive that can sit up to six people. "Seventy-five percent of people that come here are families now," she said. "So it has really turned into a family activity."
A highlight many people enjoy visiting while at Wolf Pen Gap is the two-footed oak tree at the east end of the trail system. "People love it," Ferguson said. "No one knows for sure how it happened. Both trees are rooted and form an arch. And you can get under it with your four-wheeler and people love to take pictures of it. At the center of the arch is another big trunk that goes up and makes a tree. It's really unique looking." Another showcase spot is on the west end of the trail system off of trail 300, a location called High Point, which offers a vista of the surrounding Ouachita Valley.
From Wolf Pen Gap, Ferguson said you can ride to scenic destinations such as Little Missouri Falls, Bard Springs, and Cossatot Falls. She said people also enjoy riding to Eagle Mountain, which provides a vista of the surrounding Ouachita mountains. These destinations are located outside the trail system but are connected to them via forest service and county roads.
Land use rules by the Forest Service were enacted in January of last year regulating use of the trails at Wolf Pen Gap. Riding there is limited to designated roads and trails. As part of the regulations, the Forest Service closes some of the trails during inclement weather and periods of heavy rainfall. Ferguson said the Ouachita ATV Club has created an off-highway vehicle map for visitors that showcases hundreds of miles of surrounding county and forest service roads that are connected to the trail system. It was created to inform riders about nearby route options available to ride. The club sells these maps and all earnings are used towards trail maintenance.
Ferguson, who owns Outback Cabins near the trails, said the ATV crowd generally enjoys staying at campgrounds during their riding trips. She said the popularity of Wolf Pen Gap really started to spike once there became places for riders to stay at near the trails. Currently there are a wide range of sites that fit this bill, from cabins to RV sites, that provide direct access to the trail system.
One of the first to see this opportunity was Mena native Jeff Cunningham, owner of Wolfpen ATV Campground. In 1997 he built the first cabins there that catered exclusively to ATV riders and they only rent to people that come with recreational vehicles.The property, which is located at 559 Polk County Road 61, is now the largest campground near the trail system. "There are people riding four wheelers in and out of the property; it is made for riders," he said.
Cunningham said he and Roger Morphew, who owns Sugar Creek Lodging at 140 Edgewater Lane, were initially the only two places near the trail for riders to stay at. Cunningham's property is north on the trails, and Morphew's is south. Sugar Creek Lodging was technically established before Wolfpen ATV Campground, but their focus had initially been on both equestrian and ATV riders.
Since opening his property, Cunningham has seen a lot of growth in the number of private campgrounds opening and in riders using the trail. He said Wolf Pen Gap is a vital economic engine for the community and mentioned a 2010 study conducted by the University of Arkansas at Little Rock ( UALR) that estimated the impact at around $58 million dollars annually.
According to Cunningham, the trail system stands out due to the campground options available near it. He said it is one of the few places in the nation where a rider is able to unload his or her vehicle, get to a campsite or cabin and ride the trails without trailering in. "If you are a motor vehicle user enthusiast that is a big deal," he said. The convenience saves riders from having to load their vehicles up on a trailer, drive to the trails to ride, unload, ride, and then load back up afterwards to drive back to their campsite. "Most places you have to trailer out to ride," Cunningham said. "Here, you can walk out of your cabin, get on your vehicle and ride straight to the trails."