Women's Suffrage Movement Film
Iron-Jawed Angels, a 2004 HBO film starring Hillary Swank and Anjelica Huston and highlighting the American women's suffrage movement in the 1910s, will be shown at the Shiloh Museum of Ozark History in Springdale.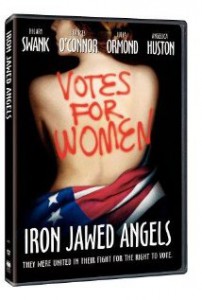 ​
In the film, defiant young activists for the women's suffrage movement put their lives at risk to help American women win the right to vote.
This free event is sponsored by the Fayetteville Business and Professional Women. The museum is located at 118 W. Johnson Ave. in downtown Springdale. For more information, call 750-8165 or visit shilohmuseum.org.
While you're there, make time to see these interesting exhibits as well:
A Boy's Toys
Through March 24: An exhibit of toys from the 1930s and 1940s from the Orville Hall Collection.
Lime Light
Through May 16: A photo exhibit about the history of lime quarrying in the Arkansas Ozarks, with specific concentration on the quarries and kilns at Johnson (Washington County).
Out of the Darkroom
Through January 9, 2016: A photo exhibit featuring images from the museum collection chosen by photographer Don House.
Permanent exhibits at the museum include:
Prehistoric People
Historic Native Americans: The Osages
Historic Native Americans: The Cherokees
Wagons and Log Cabins
In Dreadful Conflict: The Civil War Homefront
Famous for Fruit
To War and To Work
Poultry in Motion
Ozark Folklife