World Cheese Dip Championship Is Oct. 25 in Little Rock
Are you a cheese-aholic? Maybe you're a chip-aholic or a dip-aholic? You can celebrate your love of all three at the World Cheese Dip Championship, this Saturday, Oct. 25.   You'll also be benefiting a good cause – the Harmony Health Clinic.
Declare your allegiance to this popular snack by posting a letter, poem, blog or other written piece about how much you adore it and post it on the championship's Facebook page. The composition must be 200 words or less. The chosen one will be a VIP judge this year, receiving a special seat, two free tickets for guests, and WCDC merchandise. They will also get a gift card from the Big Dipper's Restaurant – the winner of the Judge's Choice in the Professional category.
In addition to the professional competition, there is also an amateur contest. All those who enter their favorite cheese concoctions are eligible for the People's Choice Awards, chosen by those in attendance. They are also qualified for the Judges Choice Awards. Prizes in both areas of competition include trophies, cash, and gifts.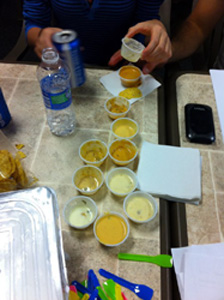 A new way to select the favorites this year is by voting chips instead of paper ballots. Two chips are provided with each paid entrance with additional ones available for purchase during the event. All the good eating takes place at Bernice Garden, located at 14th and South Main Street in downtown . Hours are 11 a.m. to 3 p.m. Tickets, which can be ordered online, are $8 in advance, $10 at the gate, with children ages 10 and younger admitted free. What better way to enjoy a beautiful Arkansas fall Saturday than by chowing down on cheese dip?