X-Ray Vision Exhibit in Texarkana
Editors note: This event is an example of the type of exhibits that have been at the Discovery Place Children's Museum in Texarkana. 
Created using the latest digital x-ray technology, X-ray Vision: Fish Inside Out is an exhibit traveling to museums across the country through 2015.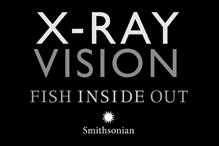 This exhibition, organized by the Smithsonian's National Museum of Natural History and the Smithsonian Institution Traveling Exhibition Service (SITES), will be on view at Discovery Place Children's Museum at 215 Pine Street in Texarkana from now through March 8, 2015.
According to a news release sent about the event, "the exhibition features 40 black-and-white digital prints of several different specimen of fish. Arranged in evolutionary sequence, these X-rays give a tour through the long stream of fish evolution. The X-rays have allowed Smithsonian and other scientists to study the skeleton of a fish without altering the sampling making it easier for scientists to build a comprehensive picture of fish diversity."

"The images are truly beautiful and the photography is amazing," said Jamie Finley, General Manager of the Texarkana Museums System. "It is not often we are fortunate enough to have the Smithsonian in our backyard so we would love to share it with everyone."
"My personal reason for voting for [hosting] this exhibit was that it combined the visual appeal of an art exhibit with a subject matter that would be interesting to kids," said Jamie Simmons, Texarkana Museum Systems Curator. "X-rays always remind me of fossils and fossils are always exciting. The interpretive materials discuss the types of fish and when/if they became extinct. It's an unusual view of an otherwise ordinary subject."
The Discovery Place Children's Museum, which is open Tuesday through Saturday from 10 a.m. to 4 p.m., is part of the Texarkana Museums System family of museums, which also include the Museum of Regional History, the "Ace of Clubs" House and the Patrick J. Ahern Home. For more information visit texarkanamuseums.org or call 903-793-4831.