Young Anglers Find Family Tradition on Dry Run Creek in North Central Arkansas
Asher Samsel, 11, flips his lure into one of the cascading pools of Dry Run Creek. The autumn-tinted trees lining the bank behind him are so picturesque in the soft, overcast light that the scene almost looks fake. Clear water pours over rock ledges and from fish hatchery outflow pipes into this sublime stream densely stacked with trout on this early November day.
Asher, along with his father Jeff, and brother, Nathaniel, has come about 600 miles and 12 hours from Georgia to fish this ethereal place.
Located near Mountain Home, scenic Dry Run Creek starts at the Norfork National Fish Hatchery and runs roughly 3/4 mile to its confluence with the North Fork River below Norfork Dam. This popular youth-only stream is known for big beautiful fish and easy access to wading or bank fishing.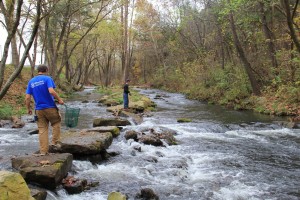 Dry Run Creek is open from sunrise to sunset to anglers under the age of 16, accompanied by an adult, and to mobility impaired anglers, who may fish from the pier or boardwalk. The area is catch and release; trout must be released immediately. Only artificial lures with single, barbless hooks are allowed. You cannot fish with natural or scented bait.
The creek carries the hatchery effluent (32 million gallons/day) and has significant numbers of large trout trying to migrate from whence they came.
"I don't remember ever seeing it this dense all through the creek," Jeff says of all the fish stacked up in deep pools and on submerged tree limbs. It's spawning season and trout are moving upstream from the North Fork River. In vain, some of them try to jump up the waterfalls of the hatchery outflow pipes.
Asher reels in a nice brown. It's his second time to fish these waters. He caught a 5 lb. rainbow on his first trip to Dry Run Creek. On that trip, Jeff says, two fly fishing guides from the area happened to be here and let Asher try out a fly rod. "They said, 'This is the closest we can come to fishing it,'" Jeff laughs. "They just like to watch kids fish here."
And Jeff enjoys watching his children fish here too, which is why he has returned to this area for a weeklong excursion on the Spring River, Dry Run Creek, White River, and the nearby Buffalo National River. He's been coming to Dry Run Creek for almost 10 years.
He first carved out time to visit the stream on a March trip that included a visit to Gaston's White River Resort in Lakeview. He son, Nathaniel, was around eight years old at the time.
Since Nathaniel's first visit, he has been back to fish Dry Run Creek about 10 times. He turned 16 in May of 2014, about a month after his last visit to the creek, and is now too old to cast into these waters.
Nathaniel says it's hard to watch Asher fish Dry Run Creek. "It's kind of hard to remember I can't take his rod and show him how to cast it," he says, adding that he loves the creek because of the atmosphere. "It's not just a grassy bank catfish pond kind of thing. That's what stands out to me the most," he explains.
Nathaniel's favorite two times fishing Dry Run were his first and his last experiences. On his first trip, he caught an 8 lb. rainbow trout. On his last excursion in April of 2014, he caught an 8 lb. brown. "Those were his two biggest fish at Dry Run," Jeff adds. "And they were in the same pool too."
"He was across the creek on his first one," Jeff explains. Nathaniel had to net the fish himself because Jeff couldn't get over to him fast enough to help. He was using a rebel crawfish single hook. On the last day Nathaniel fished Dry Run, he didn't have a lot of time to be on the water. "When he caught that 8-lb. fish he never made another cast," Jeff says. Nathaniel left Dry Run on a high note.
Asher lands numerous fish throughout the morning – a brown trout on a Lindy Fuzz-E Grub, another on a Lindy Watsit Grub. Nathaniel teaches him how to hold his fish for a photo, and how to catch and release properly. While Nathaniel clearly enjoys helping his brother, after a while he's ready to do some fishing of his own and heads off across the highway to the North Fork River, giving Jeff and Asher some one-on-one time.
Asher talks to his dad about changing lures. Jeff helps him tie on a new barbless lure using a polymer knot. "Go a little further up and cast," Jeff advises. "There you go, that's good water. Slow it down and add more twitches. Just play with the cadence until you see what works." The fish are thick and Jeff laughs as he watches them dart for it or ignore it.
Over and over, Asher pitches his lure into the creek, slowly working his way upstream to the pool his family knows to hold some big fish.
"I'm glad I finally get to fish here," says Asher. "I'm glad I'm under 16. It's really fun to fish here because my brother fished here for so long." He adds that the stream lives up to everything he heard about it from his dad and brother. "It has a lot of big fish," he explains. He says Dry Run is "definitely" worth the drive.
"We fish everywhere for all kinds of fish," says Asher. "I like the atmosphere of fishing for trout but I like to fish for anything."
"Last summer we fished nine states and this was his favorite," Jeff adds. "I think it's special to him too because it's just for him."
Jeff says he has taken his kids to fish other youth-only streams in other states, and that the designation alone doesn't make a stream great. He says Dry Run Creek is special because it's pretty, full of trout, has good access, and the outflow from the hatchery makes it such a great resource.
"I've got a line issue," Asher yells, immediately followed by. "I think I can get it." He's been catching fish all morning, although a few flipped off before he could net them.
"Dad, I think this is swimming weird," Asher says of his lure. "Yeah you're right," Jeff says heading over to take a look. Asher spends the rest of the afternoon fishing Dry Run Creek, making memories, and adding to family tradition.
Jeff is an outdoor freelance writer and blogger and often takes some of his six children on his work excursions.
Directions to Dry Run:
To reach Dry Run Creek, take Ark. 5 to Salesville (Baxter County), then follow Ark. 177 almost two miles east out of Salesville toward Norfork Dam. The hatchery parking lot is on the north side of the road. If you are fishing the outlet of Dry Run Creek, near the Norfork Dam, please listen for a siren that warns of rising water levels as conditions can change quickly.