Your Art-Filled Adventure Awaits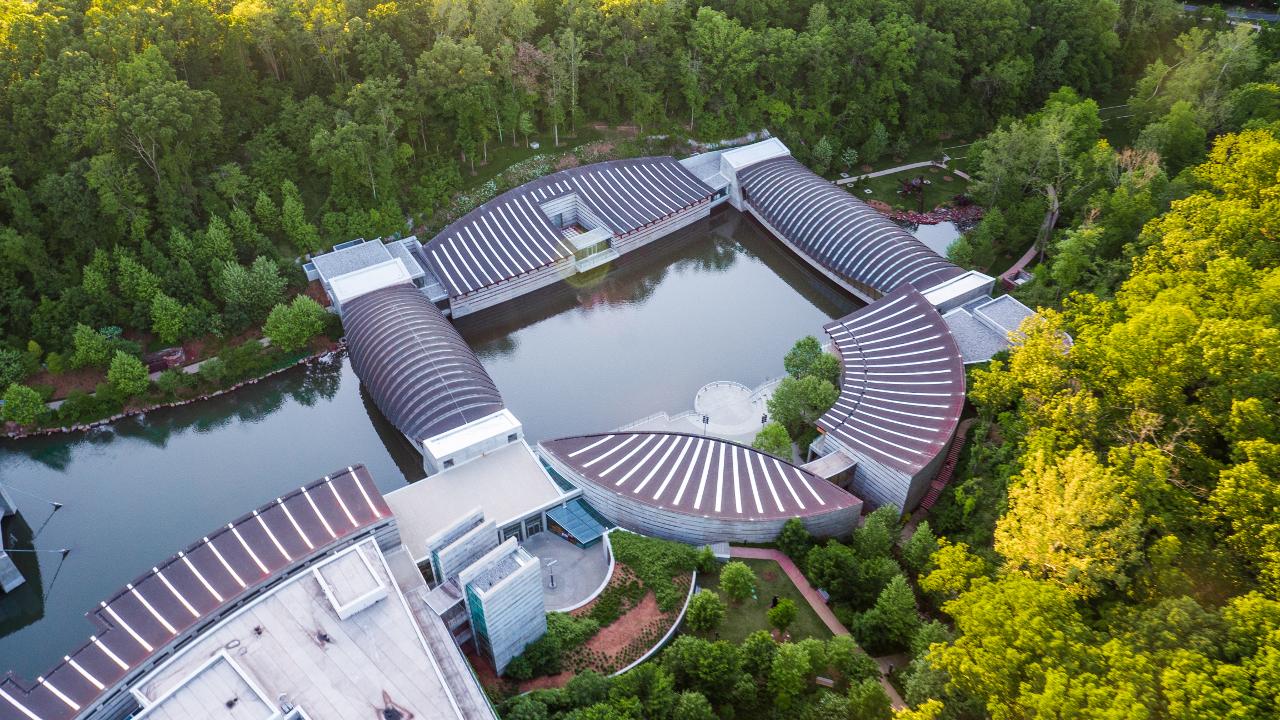 Crystal Bridges and the Momentary: Your Art-Filled Adventure Awaits
Art abounds in Bentonville, Arkansas, home to Crystal Bridges Museum of American Art and its satellite contemporary art space, the Momentary. The mission of Crystal Bridges is to welcome all to celebrate the American spirit in a setting that unites the power of art with the beauty of nature. The museum, its name coming from the nearby Crystal Spring that feeds into its ponds and the bridge construction incorporated in the building, offers five centuries of American art, stunning architecture, and 120 miles of natural Ozark forest to explore. Guest amenities include a restaurant on a glass-enclosed bridge overlooking the ponds, a Museum Store designed by architect Marlon Blackwell, and a library featuring more than 50,000 volumes of art reference material.
Art: You can always learn something new in the galleries at Crystal Bridges. The stories each artwork tells are rich and vibrant, offering new perspectives from all walks of life. The museum's collection galleries are refreshed regularly. New acquisitions and works from the museum's vaults are displayed on a rotating basis. Guest favorites include works by Gilbert Stuart, Mary Cassatt, Norman Rockwell, Helen Frankenthaler, Georgia O'Keeffe, Andy Warhol, Maya Lin, Amy Sherald, Kehinde Wiley, Dale Chihuly, Yayoi Kusama, and more. And the best part? The galleries are always free to view.
Architecture: The architecture of Crystal Bridges is as inspirational as the artwork housed inside it. In a ravine surrounded by native Ozark forest, the museum's muscular gray concrete walls rise up from the bedrock, banded in rough cedar and curved to echo the shape of the hillside. Designed by architect Moshe Safdie, the structures are meant to provide views of the surrounding landscape and play up the interaction between architecture, art, and nature. Visitors can also enjoy architectural marvels on the museum's grounds such as the Fly's Eye Dome created by R. Buckminster Fuller and a classic Usonian house designed by Frank Lloyd Wright.
Nature: Crystal Bridges also offers five miles of walking and biking trails around the museum, including the 37-mile-long Razorback Greenway, which runs through the museum's grounds. Designed to spark the imagination, the trails help guests form connections to the land and its history. In addition to enjoying the natural flora and fauna of the Ozark forest, visitors can also find over 30 sculptures along the trails to enjoy art against the backdrop of nature by artists such as Dale Chihuly, Louise Bourgeois, Nancy Schön, Leo Villareal, James Turrell, Robert Indiana, Marina Abramović, and more.
Learning and Engagement: Crystal Bridges provides year-round programming for all ages, including lectures, performances, classes, and continuing education for K-12 teachers. Their online calendar provides up-to-date information on upcoming programs and experiences visitors can participate in during their visit.
More than 50,000 schoolchildren visit the museum each year as part of the Willard and Pat Walker School Visit Program, which offers schools reimbursement for out-of-pocket expenses associated with a school field trip, including transportation costs and lunch for each student.
Discover Today's Visual, Performing, and Culinary Arts at the Momentary
The fun doesn't stop at Crystal Bridges! The Momentary is a satellite contemporary art space of Crystal Bridges, located 1.5 miles south of the museum at 507 SE E St. Occupying a decommissioned 63,000-square-foot cheese factory, the Momentary serves as a gathering place to relax, work, eat and drink, and discover today's art through programs, exhibitions, festivals, and more. General admission is always free.
The Momentary opened to the public on February 22, 2020. The building, formerly a cheese plant, was repurposed into a contemporary art space by Wheeler Kearns Architects. The team approached this as an adaptive reuse project, meaning they kept most of the existing building intact, only adding elements when necessary. In this way, they minimized their carbon footprint and use of materials while preserving a piece of Bentonville history.
Visitors can grab a coffee or beverage from the new Onyx Coffee Lab location inside the Momentary and explore the galleries, or enjoy a unique street food experience at the Momentary Food Truck, offering delicious kebabs, loaded fries, and beverages. The kebabs have a southern spin, offering flavors such as bourbon-glazed chicken thighs, maple barbeque seitan, and a grilled cheese kebab.
Want to enjoy cocktails with a view? Head up to the Tower Bar at the Momentary. Loosely inspired by 1960s airport lounges, the Tower Bar is a high-flying social space offering a rotating menu of craft cocktails, spirits, wines, and whiskey you can't find anywhere else in Arkansas, and bar snacks in the evening, plus the best views in Bentonville.
Visit CrystalBridges.org and the Momentary.org to learn more and plan your art-filled trip to Bentonville today.