Kimberly J. Williams
deltatraveler@gmail.com
I love animals! When I see any animal, I immediately want to pet it. This is a habit that has not always served me well. I've learned, after a few close calls, to always ask the owner IF I can pet the animal.
I was thrilled to visit Turpentine Creek Wildlife Refuge in Eureka Springs earlier this week. I had met Tanya and Scott Smith from TCWR several years ago and immediately fell in love with what they were doing at Turpentine Creek.
"To provide lifetime refuge for abandoned, abused and neglected "Big Cats" with emphasis on tigers, lions, leopards and cougars." That's their mission statement. But it could be called a passion statement, because with Tanya and Scott and their staff, it's more than a mission.
And, of course, one of the first things I asked as we loaded the bus was if I could pet a tiger or a lion. I was immediately set straight by our northwest Arkansas travel writer, Jill Rohrbach. Scott and Tanya later reiterated this when we arrived at Turpentine Creek Wildlife Refuge. I was heartbroken…but don't worry, I perked up quickly as we began our tour of the facility. One thing I learned is that the "big cats" have something in common with domesticated felines – they nap in the afternoons. The beautiful creatures were all spread out and taking it easy. It was a sight to behold!
The staff at the 459-acre refuge offers guided tours on the hour beginning at 11 a.m. Visitors are taken on a ½ mile walk through the large enclosures where the animals live. It is amazing to see these beautiful animals somewhat up close. For some real excitement, plan your trip to coincide with feeding time. According to Scott Smith, that's when things get really rowdy!
Turpentine Creek Wildlife Refuge also offers visitors opportunities to actually stay within the refuge. You can choose from camping sites (which accommodate tent, RV or bus), the Tree House Bungalow (built on stilts to give a feeling of living in the trees), you can choose one of the themed rooms at Bed and Big Cats, or one of the cabins at the newly opened Zulu Safari Guest Lodge. Whichever you choose, you'll be surrounded by the beauty of the refuge and the sights and sounds of the animals.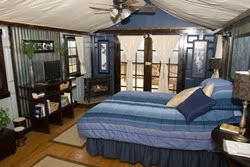 Turpentine Creek Wildlife Refuge really is an amazing place. If you're looking for a place to take the kids or the grandkids, or anyone who loves animals, check out Turpentine Creek. Their Web site, www.TurpentineCreek.org, gives much more information on the refuge and the animals that call it home. The site features background information, stunning photographs of the animals and a fun and games section for kids.
And speaking of their animals, I did get to touch one of the refuge residents. Of course it wasn't one of the "big cats," but it was one of the cutest things there! Clover, the pot-bellied pig, was more than happy to let us pet to our heart's desire. TCWR also offers a small petting zoo where people, like me, can pet the animals without fear!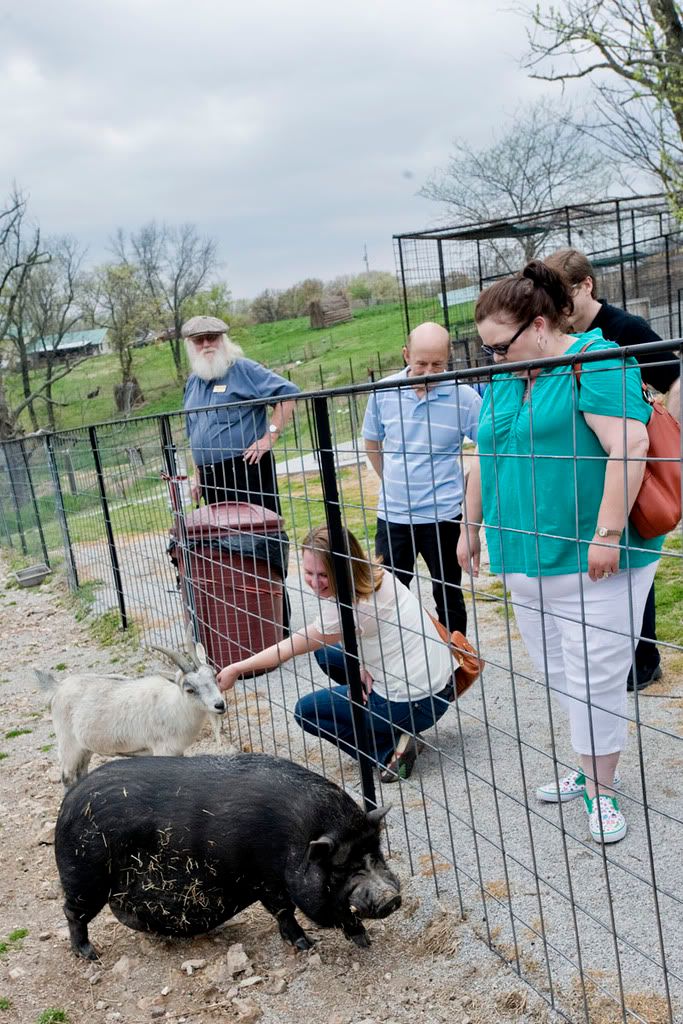 To learn more:
Turpentine Creek Wildlife Refuge is located seven miles from historic downtown Eureka Springs. They are open every day except Christmas. Make sure and call ahead if you want to visit during feeding time, because the time changes by the season. Visit www.TurpentineCreek.org to get more information or phone 479-253-5841.