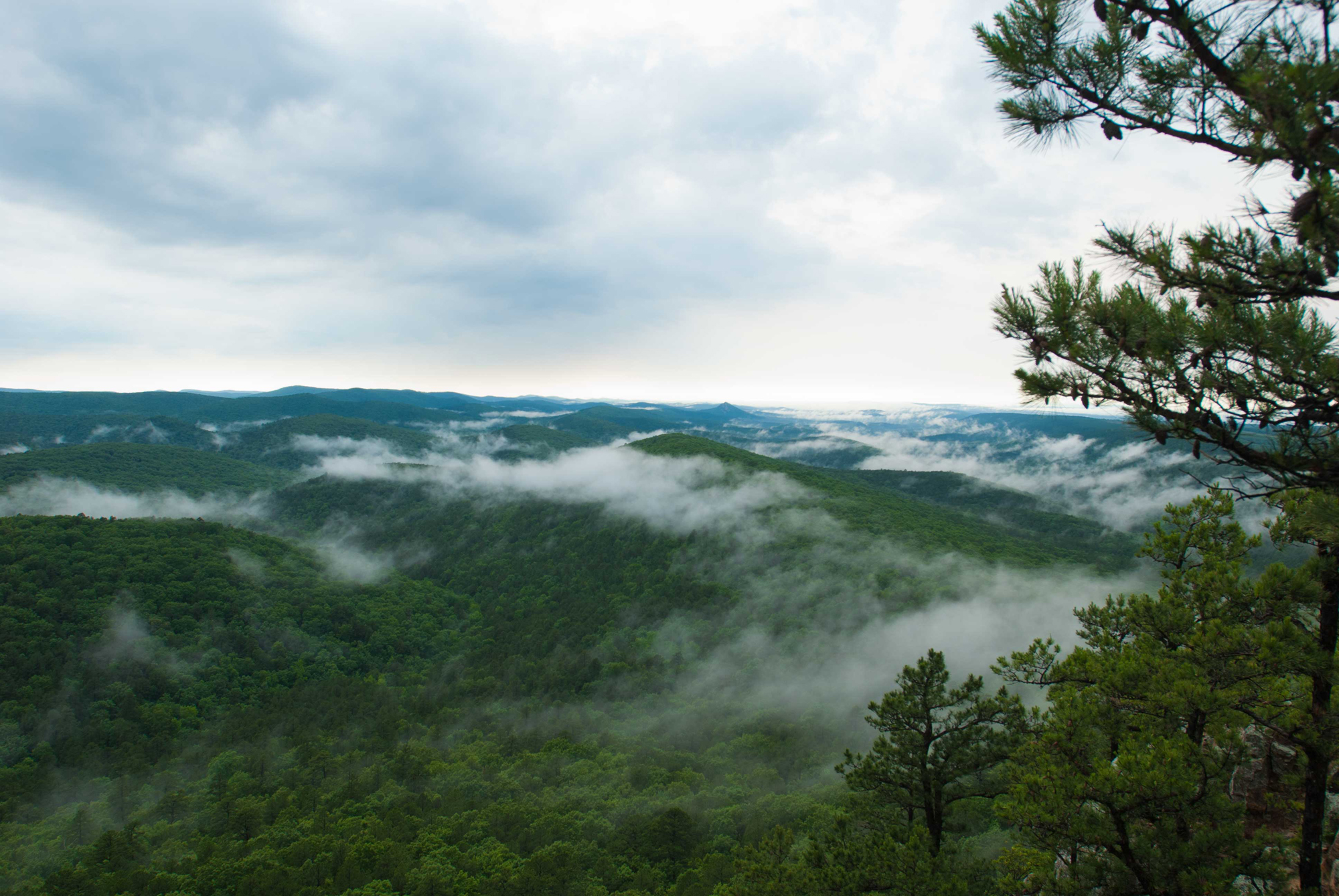 Things to do in the Ouachita Mountains
The Ouachita Mountains are unique in that they run east to west, rather than the north to south direction of the Appalachian and Rocky Mountains. The sandstone and shale slopes harbor two types of forest: hardwood on the northern slopes and pine and oak on the drier south-facing slopes. Much of the range is contained within the Ouachita National Forest, a 1.8 million-acre outdoor playground. Read on to explore everything there is to do in these majestic mountains in Arkansas.
Ouachita Mountains Activities
The Ouachita Mountains are a haven for outdoor activities. No matter what you enjoy doing, you're in the right place.
Fishing
With fast-moving streams and crystal-clear lakes, there's nothing you can't catch in the Ouachitas. The Ouachita and Little Missouri Rivers are especially popular in this area for trout and walleye fishing, while Lake Ouachita and Lake Hamilton are superb spots for striper and bass.
Hiking
Those who wish to experience the entire Ouachita Mountain range can traverse the Ouachita National Recreation Trail, a 223-mile recreational hiking trail that stretches from Arkansas's western border near Talimena State Park to Pinnacle Mountain State Park near Little Rock. You'll find plenty of quality shorter options as well, such as the Lake Ouachita Vista Trail (LOViT), Eagle Rock Loop and more.
Camping
The Ouachitas are a perfect spot for camping. The Ouachita National Forest is open to dispersed camping for those who like to rough it, but there are dozens of public and private campgrounds throughout the mountain range as well – complete with RV hookups, restrooms, showers and other amenities.
Mountain Biking
The Ouachita Mountains may be one of the nation's best spots for mountain biking. The area is home to three IMBA Epic trails – the Lake Ouachita Vista Trail (LOVit), the Ouachita National Recreation Trail and the Womble – and an IMBA Bronze-Level Ride Center in Hot Springs. The Iron Mountain trail system in Arkadelphia and Cedar Glades Park just miles from downtown Hot Springs are also popular singletrack spots, and the miles of unpaved forest roads are ideal for long days of exploration
Boating
Lake Hamilton, Lake Ouachita, Lake Catherine. Lake Greeson and Lake DeGray are highly popular among boaters and watersports enthusiasts, while the Caddo, Cossatot, Little Missouri, Ouachita and Saline Rivers are perfectly suited for canoe and kayak paddlers.
Shopping and Dining
The city of Hot Springs is the Ouachita area's main hub. The town is alive with charm – take a stroll along Bathhouse Row and visit the various shops, galleries and restaurants along Central Avenue. You can also spend the night in the historic Arlington Hotel. Hot Springs National Park, located downtown, provides hours of fascinating fun.

Plan your next adventure in Arkansas's Ouachita Mountain range – you'll never run out of things to do.