Farm Stay & Ranch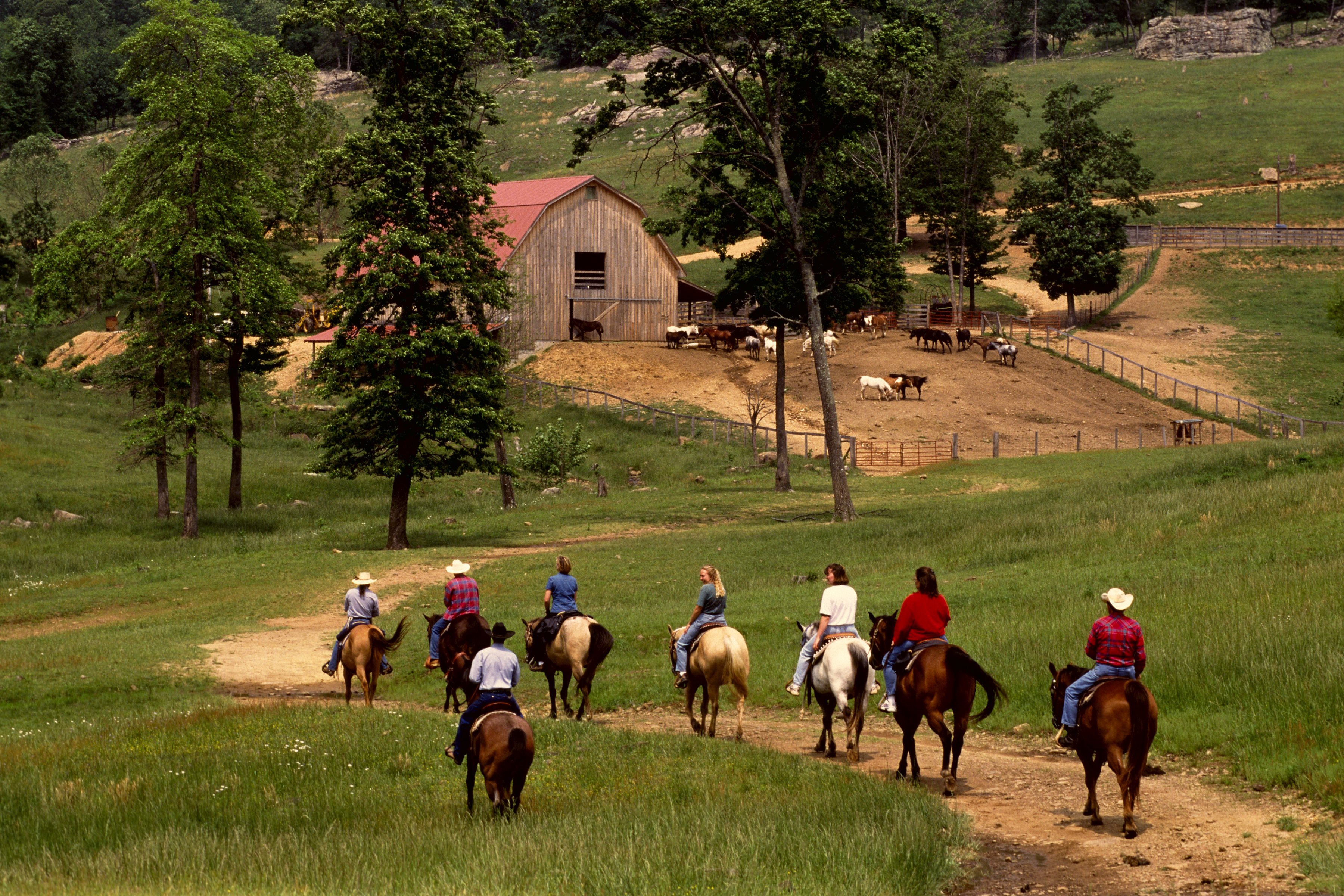 Embark on an adventure of a lifetime
Experience an amazing adventure when you spend your vacation at an Arkansas farm or ranch. You'll have the opportunity to enjoy a taste of the country lifestyle and the beautiful natural landscape of Arkansas. Just imagine exploring the rolling hills and peaceful rivers of the Ozarks or Ouachitas on horseback, and then coming home to your own cozy cabin. Whether you're an experienced rider or it's your first time on a horse, ranches provide the perfect combination of excitement and serenity for your Arkansas getaway.
Disconnect to reconnect at a farm at Dogwood Hills Guest Farm. Join in for farm chores in the morning followed by a hearty breakfast. Explore the Buffalo National River and beautiful Searcy County, or just relax and enjoy the hot tub under the stars. Unwind by the fire or dine on farm-fresh food cooked by our private chef.
While most Arkansas ranches offer horseback riding and trail rides, many also feature other fun activities, including swimming, fishing, hiking, cookouts and more—making them an excellent option for a family-friendly trip. Horseshoe Canyon Ranch in Jasper is located near the Buffalo National River, where your trail rides will take you through gorgeous meadows and forests and past towering rock formations and bluffs. You can also canoe on the river, go rock climbing or even zoom high above the treetops on a zip line if you're up for a real thrill.
At the Bar-J Ranch in El Dorado, you can get the truly authentic experience of herding cattle, feeding and gathering eggs from the chickens and relaxing by the campfire in the evening. Birdeye Farms, located in the Arkansas Delta, is a low-till, bio-intensive, organic farm that grows a wide selection of fruits, vegetables, herbs and animals with consumers in mind. The farm supplies several area restaurants, and produce can be found at the Arkansas State University Regional Farmer's Market. You can set up a tour of the farm to learn more. You'll love the opportunity a farm or ranch provides to try something new and spend time with family and friends. 
Find the best farms and ranches for your Arkansas escape by browsing the listings below.