Eureka Springs Art & Heritage Tour
Motorcycling Route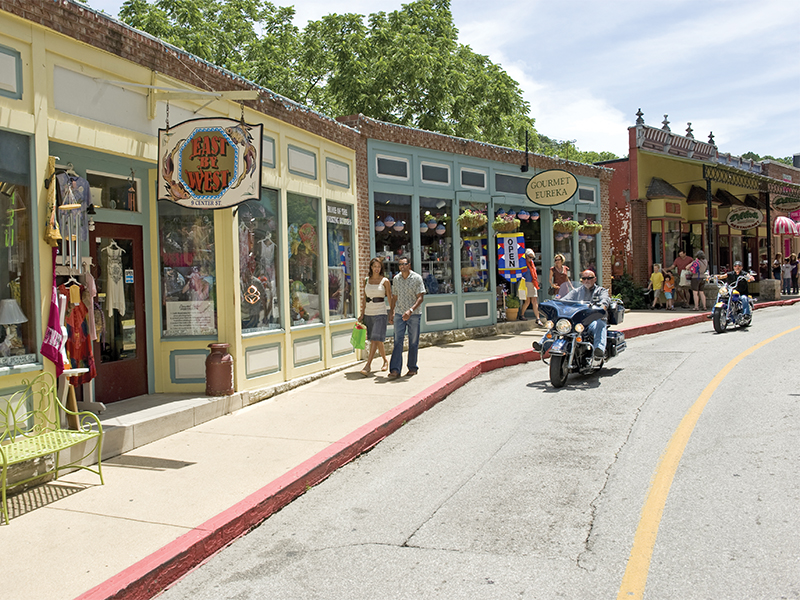 In the far northwest corner of Arkansas, nestled deep in the Ozark mountains, are two of its motorcycling destination crown jewels. One, a charmingly quirky little historic Victorian resort filled with B&Bs and boutique stores, the other a county seat with a world-class art museum. 
Entering Eureka Springs is a trip back in time to the late 1800s. There are no chain stores or traffic lights in the historic downtown, and many of its restaurants, shops and hotels are housed in stunning examples of Victorian architecture made from local stone. It's the perfect place to begin and end this fantastic journey.
Leave town on AR 23, described as one of the world's most spectacular trips in National Geographic Drives of a Lifetime. This 10-mile length, made up of broad sweepers and gentle curves, is a casual ride through beautiful, backwoods terrain. The turn onto AR 12 and, soon after, AR 45 takes you to Fayetteville across a scenic plateau of pastures, farms and stands of thick woods. Fayetteville has wonderful restaurants and watering holes, as do Springdale, Rogers, and Bentonville, all connected by a scenic stretch of I-49.
Bentonville, best known as the birthplace and home base of Walmart, has its own storied history. However, the primary reason fine-art lovers flock here is the stunning permanent collection on display at the Crystal Bridges Museum of American Art, and there is no fee to view it. 
Heading back on US 62, the road turns into a real dragon after Gateway. Sport bike enthusiasts will enjoy this last leg of the route, but be alert and ride within your limits. There are technically-challenging stretches with unpredictable curves and hairpin switchbacks. It's a primary route to Eureka Springs, which means heavy traffic at times, so watch for encroachment by oncoming vehicles in blind corners.