Good Local Fishing Areas
Looking for good and local family-friendly fishing areas or where to find the best trout fishing in Arkansas? Here you will find a guide to Arkansas fishing locations in each of the six geographic regions of The Natural State — and we encourage you to travel to each one. Find out why Arkansas has some of the best options for year round fishing in America, whether you're into big trophy bass angling on the lake or looking for great fly fishing action on one of our many scenic dream streams and creeks. Plan to fish the waters of Arkansas and enjoy one of the best fishing trips of your life!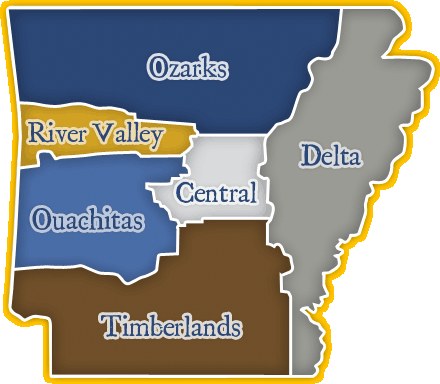 ​
Fishing in the Ozarks
Looking for Ozark fishing opportunities? The Ozarks are a heavily eroded plateau, pushed up eons ago and carved out by hundreds of streams over thousands of years. Nature worked wonders, and today the diversity of these highlands is endless.
Some of the most scenic rivers and majestic lakes in America are here to enjoy. Trout floats on the White, Little Red and Spring rivers, plus bass and panfish outings on the lakes and smaller streams, make for world-class fishing action. Recreational boating, canoeing and swimming are also on the agenda of many visitors.
Little Red River, emerging icy cold from beneath massive dam at Greers Ferry Lake is a premier-class trout stream. Trout were introduced to the Little Red in 1966, some three years after the completion of the lake project. Rainbows, browns and cutthroats are caught for some 35-river miles below the dam. Howard "Rip" Collins caught a 40-pound, four-ounce world record brown trout on the river in 1992...a mark that stood until 2009.
Upper Little Red River Arkansas Fishing offers 29 miles of ideal trout habitat below Greers Ferry Dam at Heber Springs. Brown trout running 5 to 8 pounds are common, and a 20- to 30-pounder is always possible in the river that produced the 40-pound, 4-ounce world record. The brown trout spawning run occurs from mid-October through November, making these especially good times to fish. This popular Ozark Mountain tailwater trout stream is beautiful in its own special way, running clear and cold, skirted by scenic hardwood hillsides alive with wildlife - otters, raccoons, deer, ducks, songbirds and eagles.
From Bull Shoals to Newport, the White River flows through some of the most scenic regions The Natural State has to offer. Starting in the western Ozarks, the White meanders through the hills some 300 miles before reaching Bull Shoals Lake. With the help of Norfork Dam, Bull Shoals converts the White into a 100-mile trout stream, framed by some of the most colorful limestone bluffs and lush forests in the nation. Boat launch facilities are located at most access points and fishing resorts are available from Bull Shoals to Mountain View. Flat-bottomed johnboats, fitted with comfy seats, are the preferred method of fishing and viewing the scenery along the river. Several record-breaking browns and rainbows have been hooked on the upper White. Below Batesville, the White runs warmer and bass become popular targets. At Newport, the river turns southward across the delta before joining the Mississippi River in southeast Arkansas
Fishing in the Arkansas River Valley
Nestled between the Ouachita and Ozark mountain ranges, the Arkansas River Valley is a land of sweeping vistas, impressive heights, scenic byways and highways, and picturesque rivers, lakes, streams and forests. The Arkansas River Valley is the place for an exciting vacation with an emphasis on the great outdoors.
Arkansas River Valley fishing offers many beautiful and bountiful fishing spots and float streams such as the Mulberry River, Big Piney Creek, Illinois Bayou and South Fourche River that are great places to fish for smallmouth bass or float a canoe. There are tournament-quality bass fishing holes that include the Arkansas River and Lake Dardanelle. Be sure to visit the new state-of-the-art fish weigh-in station at Lake Dardanelle State Park and the impressive new visitor's center.
Harris Brake, Ozark, Overcup and Brewer lakes also offer top fishing for bass and panfish.
Scenic highways in the Arkansas River Valley run everywhere. Take Scenic 7 Byway, Mount Magazine Scenic Byway (Arkansas 309), Ozark Highlands Scenic Byway (Arkansas 21) and other scenic routes for dramatic viewing of the Arkansas River Valley's best outdoor scenes.
Follow the Arkansas River to the state's northwest corner for a fascinating chapter of Old West history at the Fort Smith National Historic Site. Enjoy free tours and samples in the wine country at Altus and Paris. Visit the Victoriana that is downtown Van Buren. See the three state parks in the clouds: Mount Nebo, Petit Jean and Mount Magazine.
Unique attractions are here as well, such as the Museum of Automobiles atop Petit Jean Mountain, and many more interesting stops.
Fishing in the Ouachita region
Ouachita fishing is fun! You can add sparkle to your travel when you go fly fishing in the Ouachita Mountains, visit a crystal or diamond mine, or relax in a spa city filled with family attractions.You can add sparkle to your travel in the Ouachita Mountains at a lake or river, a crystal or diamond mine or a spa city filled with attractions.
Beautiful settings for Ouachita fishing, skiing, swimming, scuba diving, sailing and other outdoor sports are found at the five "diamond lakes" of the region: Ouachita, Hamilton, Catherine, Greeson and DeGray. Private Arkansas fishing resorts ring the lakes offering gorgeous views and fun. Some of the resorts and lodges provide spa treatments, luxurious cabins, horseback trail rides, restaurants, and watercraft and houseboat rentals. DeGray Lake Resort State Park offers a lodge, camping, golf, boat rentals and other recreation.
As evidenced by its popularity for fishing, camping, swimming, water-skiing and other water sports, the 13,400-acre DeGray Lake is a prime vacation and weekend getaway in west-central Arkansas. Situated among ridges of the Ouachita Mountains and formed by a dam across the Caddo River, the lake has more than 700 campsites, ranging from full hook-ups to primitive, and some 15 boat-launching ramps on its shores. Houseboating, sailing and scuba diving are also popular, as is observing bald eagles that winter on DeGray.
Fishing in the Timberlands
Fishers and hunters revere the waters and woods of the Arkansas Timberlands. Travel the rolling, pine-covered Timberlands to visit popular locations for enjoying the great outdoors.
Cane Creek, Millwood and White Oak Lake state parks all have great fishing, camping, hiking and other recreation. Moro Bay fishing grounds and state park are also lures for anglers.The 65,000-acre Felsenthal National Wildlife Refuge, which contains the world's largest green-tree reservoir, is widely regarded as one of the state's best fishing venues. Lake Columbia is a 3,000-acre impoundment stretching for six miles along Beech Creek about six miles northwest of Magnolia. Largemouth bass are the lake's main drawing card, but fishing is also excellent for crappie, channel catfish, bluegills and red-ear sunfish. Flooded timber covers about half the lake.
Fishing in Central Arkansas
Central Arkansas is a great destination filled with exciting cities, festivals, shopping, and history; yet, fishing opportunities abound amid its rivers and lakes.
The Arkansas River dissects the state as it runs through Central Arkansas and numerous lakes punctuate the region as well. The Arkansas is loaded with game fish, including largemouth bass and catfish. Managed by the U.S. Corps of Engineers, there are numerous public use areas including campgrounds, boat ramps and fishing areas along its length.
Maumelle Park, the only public campground in Little Rock, is a U.S. Corps of Engineers facility on the river that features a fishing pier, playground, showers and flush toilets, 98 camping spaces with water and electricity, a boat ramp, and a day-use picnic area. Lake Maumelle provides Little Rock's main water supply (no swimming allowed), but is also a popular boating and fishing lake. Lake Maumelle, dammed in 1957, covers an area of 14 square miles and has a 70-mile shoreline. Bass is the main Lake Maumelle fishing lure with white, black and hybrid striped being popular catches. Kentucky bass, crappie, bream and catfish are other species found in the lake.
Fishing in the Delta
The broad bottomland rivers of the Arkansas Delta are much touted for fishing. The Arkansas Delta has many popular fishing areas for a plethora of species. Big Lake National Wildlife Refuge near Manila contains Mallard Lake where the state-record largemouth bass was caught. This refuge basin is thought to have formed from the New Madrid earthquake of 1811-12 and is fed by the Little River.
One of the best crappie spots in the state is Connerly Bayou, a tributary of Lake Chicot in Lake Village. Lake Chicot, Lake Dunn, and Lake Austell are must-fish lakes in the Arkansas Delta. Crowley's Ridge offers excellent Delta fishing on the Black and Little Rivers as well as Lake Ashbaugh. The main species in the river are catfish, crappie and largemouth bass. Wooded Grand Lake, southeast of Eudora, is excellent for catches of bass, catfish and panfish. The second largest natural lake in Arkansas, Horseshoe Lake fishing offers up good bass and catfish amid a lot of cypress trees.
This fertile region-shaped by the Mighty Mississippi River - is known for its agriculture and abundance of Delta fishing and hunting opportunities.
Visitors also will find state parks, wildlife refuges, museums and galleries, archeology sites, national heritage sites, a national forest, and recreational opportunities ranging from world-class hunting and fishing, to hiking, biking and birdwatching. Two major routes link the 15 counties included in this region: Crowley's Ridge Parkway (a National Scenic Byway), and The Great River Road-Arkansas (part of a 10-state route extending from Canada to the Gulf of Mexico).