Battle of Helena 150 This Weekend
Helena-West Helena will observe the sesquicentennial of the Battle of Helena on May 24-26. The Delta Cultural Center, the Arkansas Civil War Sesquicentennial Commission and the Helena Advertising and Promotion Commission are sponsoring the events.
​
On Friday, vendors open at noon at the Cherry Street Pavilion, located in the 100 block of historic Cherry Street. The historic Moore-Hornor Home will be open for tours from noon until 4 p.m. From noon until sunset, the camps for the soldiers will be open for visitors. Also Friday, there will be an after-hours viewing of the Delta Cultural Center's temporary exhibition, Lincoln: The Constitution and the Civil War at the museum's visitors center, located at 141 Cherry St. Visitors can attend the battle briefing at Beth El Heritage Hall at 7 p.m. The hall is located at 406 Perry St.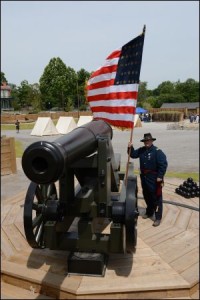 ​
Saturday, May 25, brings another opportunity for guests to visit the soldiers' camps, beginning at 9 a.m. The Moore-Hornor Home opens at 9 a.m. for reenactment tours and an interpretation on Civil War hospitals. At the same time, the Confederate Army begins their march through Crowley's Ridge, heading toward Helena. From 9-11 a.m. there's a skirmish atop Crowley's Ridge Road near Battery C. At 10 a.m., the first shots are fired for the Battle of Helena 150, as the Confederates start driving in Federal pickets.
From 11-11:30 a.m., it's the attack on Battery C and Fort Curtis. At noon, the Confederates charge onto Fort Curtis. Across from the fort, the Moore-Hornor Home opens for tours at noon. From 3-7 p.m., the artillery train at Fort Curtis. Also on Saturday, a series of lectures will be held at the Beth El Heritage Hall, located at 406 Perry St., beginning at 2 p.m., including musical performances by Harmony, and lectures on food and medicine of the Civil War, the Battle of Helena, and the U.S.S. Tyler. Downtown Helena hosts an artillery demonstration on the levee near the Cherry Street Pavilion and at 8:30, a Civil War concert and dance will be held at the Pavilion.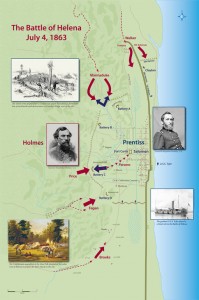 ​
Sunday starts off with a second reenactment of the Battle at Fort Curtis at 8 a.m., followed by a worship service at the Cherry Street Pavilion. The Battle of Helena 150 concludes at 11 a.m.
​